Huge Mural Underway at Hobby Airport to Support Houston's 2026 FIFA World Cup Bid
June 22, 2021
Page Carousel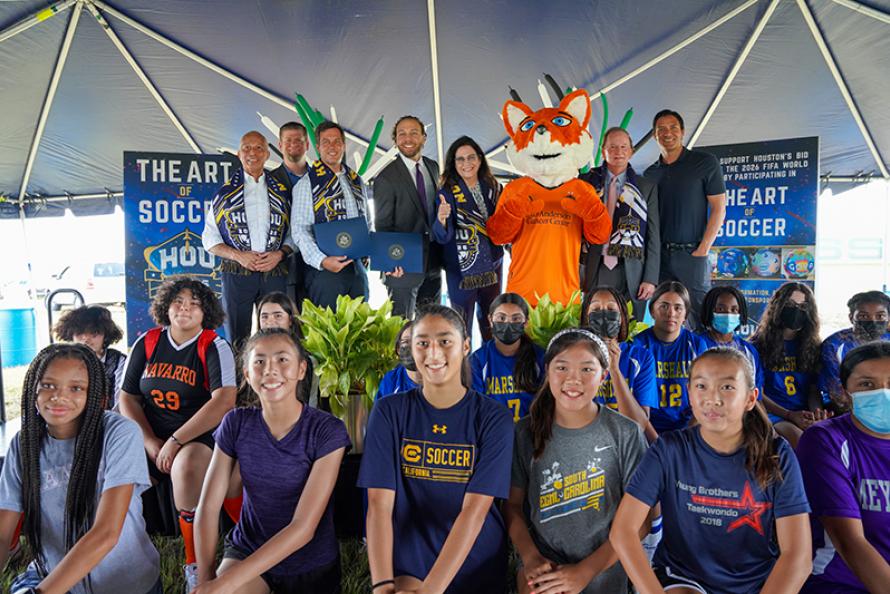 As the saying goes, everything is bigger in Texas. 
Big buildings, big oil, big hats, big hair… 
And a really big mural is now underway. William P. Hobby Airport, HOU, will serve as home for a 10,000-square-foot mural in support of the city's bid to be a host city of for the prestigious 2026 FIFA World Cup international men's soccer championship. Local street artist Mario Figueroa Jr., known as GONZO247, and six other artists have begun work on the mural which will adorn the exterior of the Price Compressor Co. building at Hobby Airport.  
Houston Airports is working in collaboration with the Houston 2026 World Cup Bid Committee  to create the mural in support of the bid. 
"History has shown that our city can mobilize and come together in big moments," Houston Mayor Pro Tem Dave Martin said. "And there is no doubt that we will be able to rise to the occasion once again and serve as a great host to FIFA. I can say with confidence that our airports' backing for our World Cup Bid is unmatched by any of our competitors." 
Alton DuLaney, curator of Public Art for Houston Airports, agreed. He said the Houston-centric mural will depict some of the best aspects of what makes Houston such a unique and attractive city. 
"We're going have the Astrodome, we're going to have a city skyline. There's going to be a beautiful airplane in there, a cowboy, maybe a man on the moon with the Texas flag, a space shuttle and then, of course, some giant soccer balls," DuLaney said. 
The mural will be visible from aircraft departing and arriving at Hobby Airport. Large ceramic soccer balls will be painted and later displayed inside Bush and Hobby airports. 
Figueroa and the six additional artists – Sylvia Blanco, Hannah Bull, Roni Cabrera-Moreno, Black Cassidy, Nicky Davis and Mathieu Jeanbaptiste– expect to have the mural completed by the end of June. 
"It would be an honor to host it here in the city and it would have a massive economic impact and bring in thousands of visitors from across the world," Chris Canetti, President of the Houston 2026 World Cub Bid Committee said. "For me, I'm really excited, and I'm happy to be able to represent my city in my city," Figueroa said. 
Over the next six months, the bidding process will continue, and FIFA will visit Houston and name a winner by late 2021. 
Ultimately, the tournament will be jointly hosted by 16 cities in the U.S., Canada and Mexico. A total of 60 matches, including the quarterfinals, semifinals and the final, will be hosted by the U.S. while Canada and Mexico will each host 10 matches.  
"There are no better airports than Houston's to receive hundreds of thousands of passengers who will travel from every corner of the globe to witness the world's most exciting soccer tournament," Houston Airports Director Mario Diaz said. "From an airport perspective, to host a global event like the World Cup, it's critical to have two key elements – airport capacity and connectivity. We exceed both." 
The World Cup is the most popular sporting event in the world and soccer is the world's most popular sport with an estimated 4 billion fans. If Houston is chosen as a host, it could be an economic boon for the city.