Houstonians behind the Hospitality | Meet Paul Barker
Each month Houston Airports spotlights one of the many volunteer ambassadors who welcome travelers to Space City. This month we share the story of a retired Kingwood grandfather who once served The Queen of England
October 27, 2022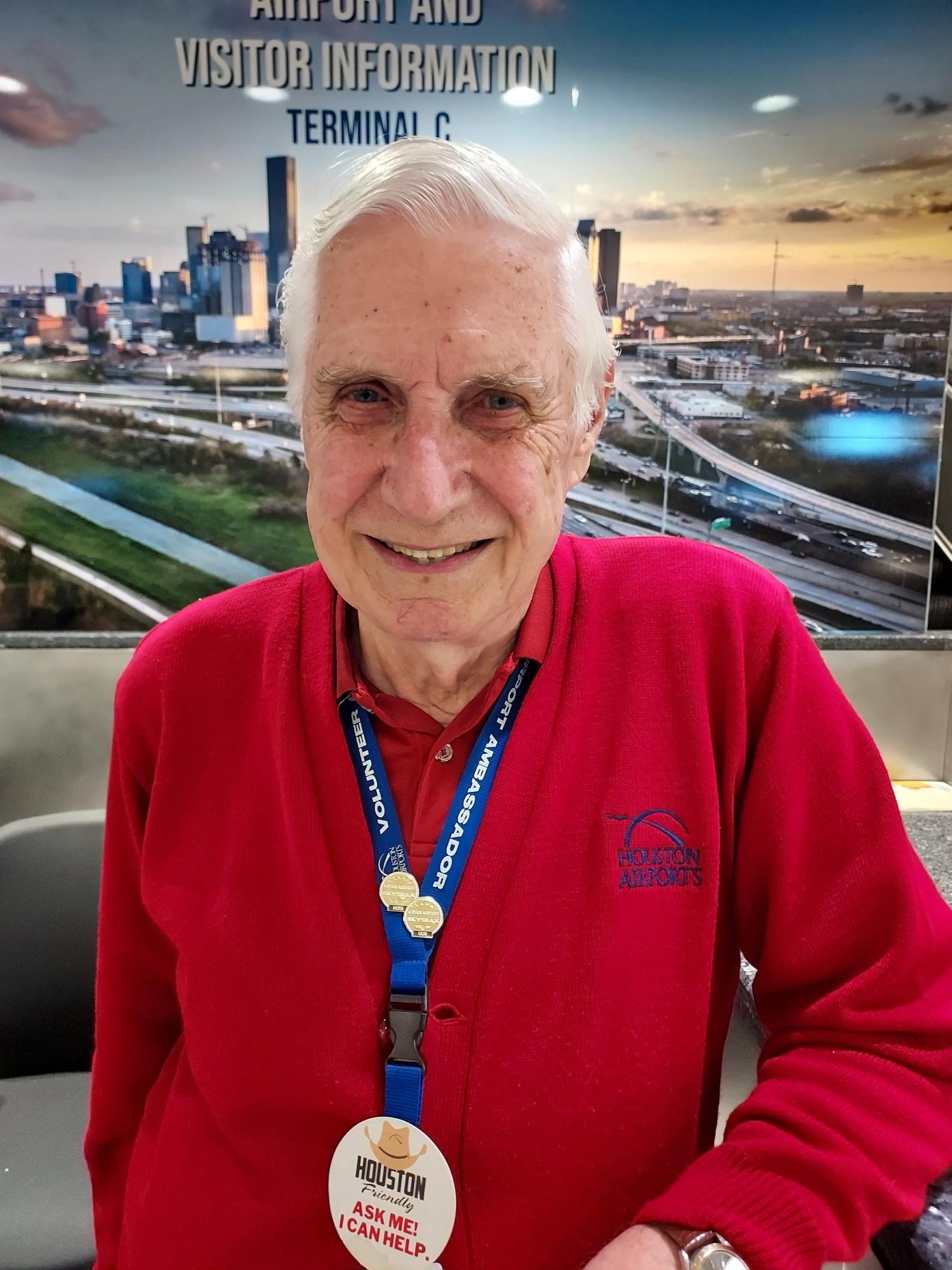 From baggage claim to bathrooms, parking to shuttle pickups, if you need anything upon arriving at George Bush Intercontinental Airport, Paul's your guy. 
"You have to be confident to say, can I help you," said Paul Barker, a veteran volunteer ambassador for Houston Airports. For the last seven years, Barker has provided the state's signature hospitality in a proper British accent. The experience is the epitome of Houston: diverse, surprising, memorable and warm.  
"My goal is to give them a good impression of the airport," explained Barker of the ambassador program. "Normally you fly. You check-in. You talk to the people at the ticket counter and you're on your way. But when you arrive back, that's when it gets a bit confusing." Barker also reassures people who have come to the airport to greet family or friends that they are in the right place. 
 
Barker and about two dozen others volunteer to greet arriving travelers at both Houston airports. Some are stationed at information desks; others roam baggage claim offering a kind smile and useful advice.  
"The other day I was in Terminal A and in four hours I think I helped about 370 people," said Barker. "That's the satisfaction for me, knowing that I've helped all those people."  
Stepping in to help is among the common threads in Barker's life.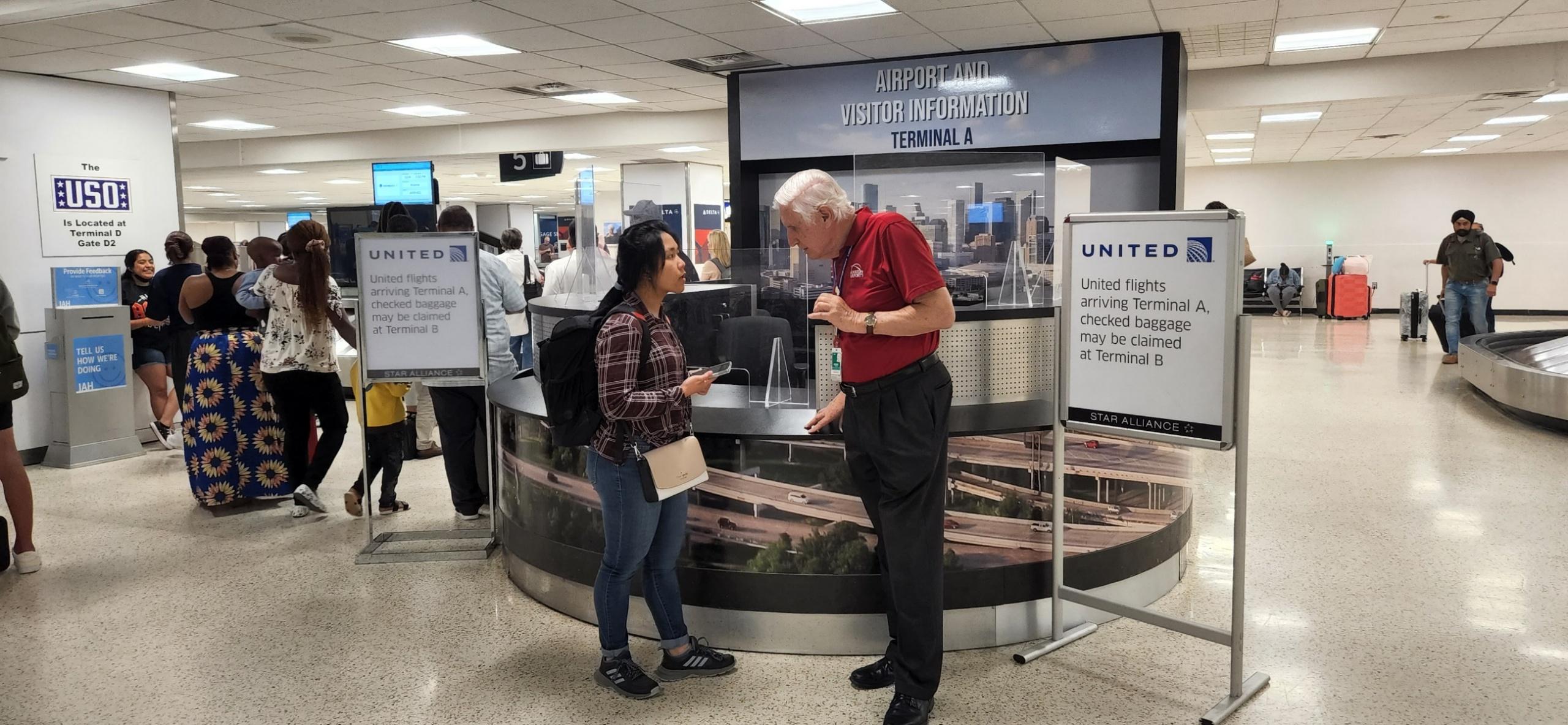 Born in England in 1938, Paul Barker grew up in Worcestershire. "When I was 18, the Queen of England required my services," said Barker as he painted a picture of the Cold War in 1956. "My father was in the Royal Air Force during World War II, so I naturally applied to join the Air Force when I was drafted." After his military training, he said he worked in Air Traffic Control on several fighter command stations in England.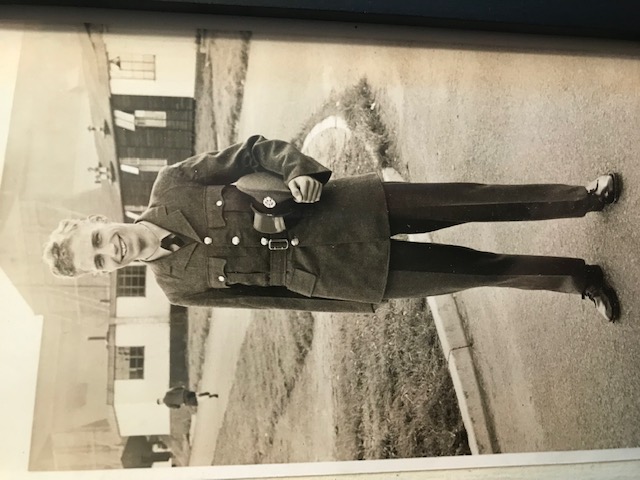 From guiding aircraft to constructing model planes, Barker's love of aviation grew through the decades.  
Traveling the world for his career didn't hurt either. 
A career devoted to water conservation and pollution control required the Englishman to visit 65 countries. He spent time living in Kenya and South Africa. In 1981, Barker moved his wife and two sons to Houston. They've spent the last 40 years enjoying warm Texas winters. When Barker retired in 2015, his wife suggested he volunteer in his community.  
Houston Airports was at the top of the list. 
"Once a week you have to know what to say to people and how to help them," said Barker of the work that comes after a training course. "There's a lot of people that travel who do need a little bit of help. They're grateful to have someone to talk to and answer questions." 
Among Barker's most popular pieces of advice when flying out of the airport is, to give yourself enough time to move through security. "Security is important. It's got to be done and it takes time," said Barker. "Once you're through security, then you can relax. There are lots of restaurants and shopping. Bush Airport is not a bad place to wait for your flight."  
He splits his time among his church, a homeless outreach group and Bush Airport.  
The 84-year old wouldn't have it any other way. 
"Everyone has different stories and experiences. Everyone volunteers at different times," said Barker of his fellow ambassadors. "They come from all sorts of professions, like school teaching, industry and government." 
Keep an eye out for Paul Barker if you fly through Bush Airport. He volunteers in Terminals A and C.  
CLICK HERE: Learn more about the Houston Airports Ambassador Program