Houston Spaceport Taking Flight
June 22, 2021
Page Carousel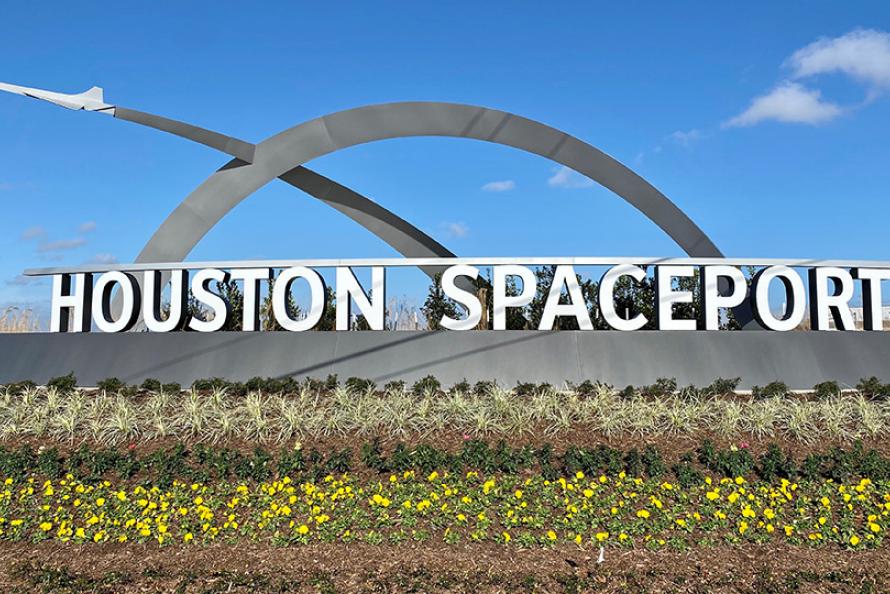 Houston Spaceport is quickly becoming a focal point for aerospace innovation attracting aerospace companies that will further support the commercial aerospace industry. There are many new developments now underway.  
Intuitive Machines 
Starting in 2023, Intuitive Machines will transition from its current spaceport facility into a bold new 125,000 square-foot Lunar Operations Center campus that will be built at Houston Spaceport. Intuitive Machines plans to start an annual launch effort to send hardware—NASA and commercial payloads—to the lunar surface. Intuitive Machines is currently developing the NOVA-C Lunar Lander that will deliver these commercial payloads to the lunar surface. Demand for the company's complete lunar program, from moon lander to deep-space communications, requires expanding into the near 12.5-acre plot at the Houston Spaceport entrance. 
Collins Aerospace 
Collins Aerospace announced plans for a new eight-acre, approximately 120,000-square-foot aerospace manufacturing campus at Houston Spaceport that will support spaceflight and host Houston's first spaceflight incubator.  The new Collins Aerospace campus will continue to be part of the company's Mission Systems business, one of six strategic business units for Collins Aerospace. The facility will also host Houston's first-ever incubator supporting spaceflight, with a dedicated 10,000-square-foot area for startups and universities to collaborate on solving critical space technology challenges, including robotics, medicine, and additive manufacturing. Houston continues to be a leading region for aerospace, and the Houston Spaceport will provide a great opportunity for members of the aerospace community to come together, facilitating collaboration and innovation. Collins Aerospace currently has a facility in Houston, which is at capacity, that develops and produces systems for NASA's human-manned space flight programs.  
Axiom Space 
Axiom Space is a company specializing in space habitats, aerospace technology and provides turn-key service for human management of missions to space. Axiom Space is building the world's first commercial space station called Axiom Station. Orbiting 250 miles above the Earth's surface and traveling over 17,000 miles per hour, the Axiom Station will include be a commercial laboratory and residential infrastructure habitation modules in space that will serve as a home to microgravity experiments, critical space-environment materials testing and used by both private and government astronauts.  
Axiom plans to develop an Aerospace Operations and Technology Facility at Houston Spaceport which will create about 1,000 jobs.  
The 22.5-acre campus will include an estimated 430,000 square feet of high-bay space, hangar, flight development and testing space, office space, astronaut training facilities and parking.  The high-bay space will be designed to support the integration of space modules that will be flown to create the Axiom Station. ​The hangar will be designed to accommodate aircraft—such as private jets and T-38s—for astronaut training purposes. ​ In addition, Axiom may conduct FAR Part 145 aircraft maintenance and storage for its commercial space customers arriving in their own aircraft. ​ 
The facility is expected to be completed in 2024. 
San Jacinto College EDGE Center 
Aviation Director Mario Diaz emphasized the crucial need for a trained workforce for Houston Spaceport to thrive.  As a result, Houston Spaceport is now the official training partner of the San Jacinto College EDGE Center. The EDGE Center currently offers aerospace training programs.   
San Jacinto College, through a partnership with Houston Airports, City of Houston and the Federal Aviation Administration offers four initial training programs at the Edge Center: composites manufacturing and repair technician, aerospace electrical assembly technician, aerospace structures technician, mechatronics and industrial automation technician. In addition to these programs, San Jacinto College also offers customized and individualized training based on the needs of the spaceport partners.   
Through the EDGE Center, students will have the chance to interact with industry professionals and get hands on experience that will ultimately benefit the region and Houston Spaceport with a well-equipped workforce.