Houston Airports Roadway Monuments Honor Important Causes
April 22, 2021
Page Carousel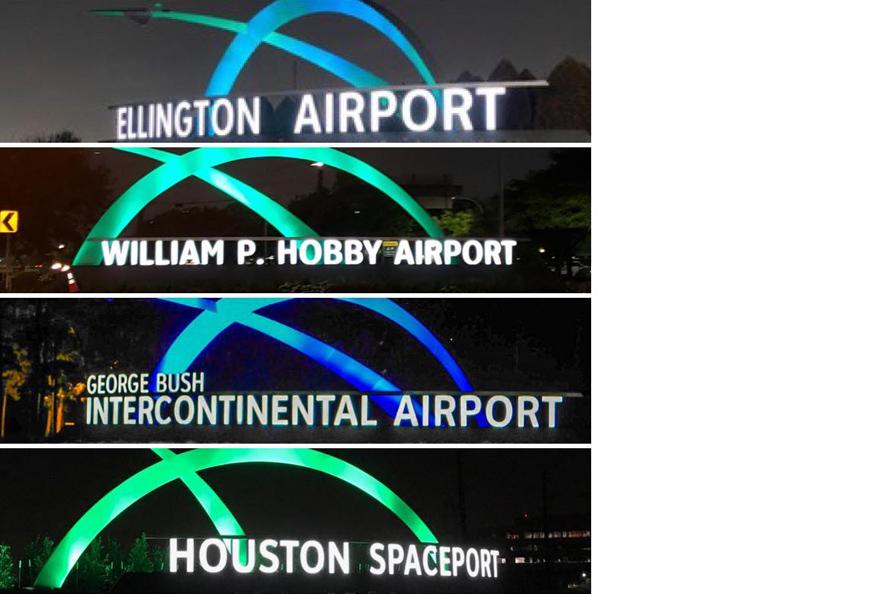 With a 5-star experience in mind, Houston Airports began installing roadway monuments bearing the airports name to welcome passengers as they enter airport property. Houston's airports now have monuments at George Bush Intercontinental Airport, William P. Hobby Airport, Ellington Airport and Houston Spaceport that set a sense of place to the arrival experience for customers. 
"It's a great way to welcome passengers to Houston, not only because they are beautiful monuments, but they also allow us to show support to the community," Houston Airports Director Mario Diaz said.  
Occasionally, the monument signs are illuminated in different colors to show support for causes that are important to the City of Houston and Houston Airports. In April, all of the Houston Airports monuments were lit blue to honor Autism Awareness Month.  Also in April, the monuments dawned blue and green hues in support of LifeGift--  an organization that offers hope to the thousands of people in Texas and beyond who need lifesaving organ transplants, and to countless others who need lifesaving tissue transplants. ((Include link https://www.donatelife.net/blue-green-day/) )) 
In recent months, Houston Airports lit the monuments red in support of the Houston Cougars basketball team's Final Four run. The colors annually turn red and green during the Christmas holiday. Photos are then shared on Houston Airports social media channels to further explain the meaning behind the color.