CHANGE IS COMING
The Federal Inspection Services Building or FIS building will house the new International Central Processor which combines all the international carrier's check-in areas to a centralized building. By creating a centralized check in area for all international travel, the terminals can operate solely as gate concourses. In addition to the ICP, the FIS building will also be modernized, renovated, and upgraded to accommodate the International Central Processor.
THE FEDERAL INSPECTIONS SERVICES (FIS) BUILDING WILL INCLUDE MANY MODERNIZED AND UPGRADED FEATURES IN ADDITION TO THE INTERNATIONAL CENTRAL PROCESSOR (ICP) SUCH AS: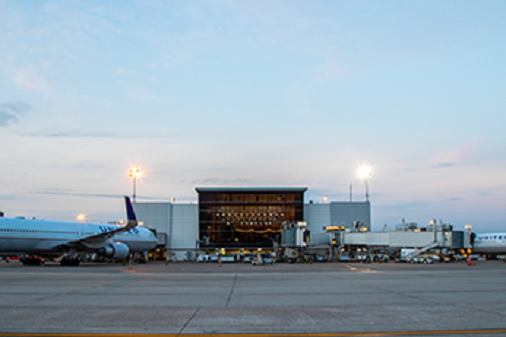 BEFORE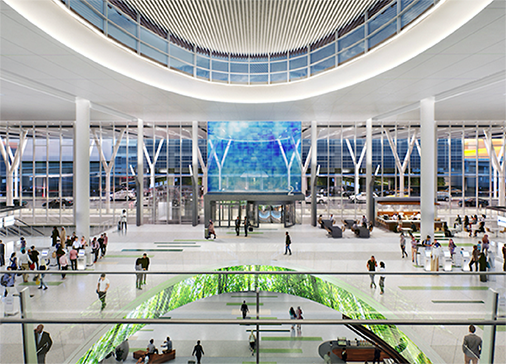 AFTER
TERMINAL E EXPANSION
Terminal E is expanding in several areas to help accommodate increased international travel within IAH. The international ticketing, departure hall and arrival hall of Terminal E will all be expanded. The expansion will feature 4 pre-cleared bag claim carousels an expanded meter greeter area, numerous concessions and an upgraded information/concierge service. Modern artistic architecture within the Terminal will display an oculus shaped threshold that links the departures and arrivals halls vertically drawing eyes upward towards a natural light filled space displaying new artwork alongside the relocated Mickey Leland statue.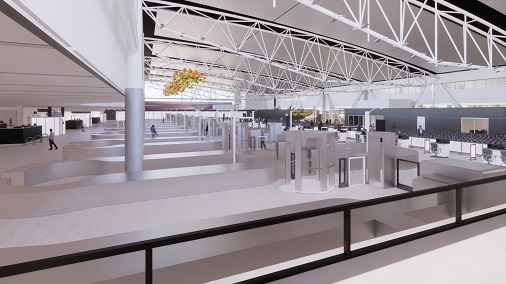 SECURITY CHECKPOINT UPGRADES
The new TSA security checkpoint has many great features, both aesthetically and functionally, giving passengers the best experience when flying at IAH. Aesthetically, passengers will enter the security checkpoint, with two flanking portal walls on the departures level showcasing the beauty of Houston's landscape and the Congressman Mickey Leland statue centerpiece. The upgraded FIS recheck area includes new ADA counters, flight information displays, restrooms, bag service offices and vertical circulation for those continuing their travels. Additionally, an oversize baggage handling system can be found on the south end of the FIS building.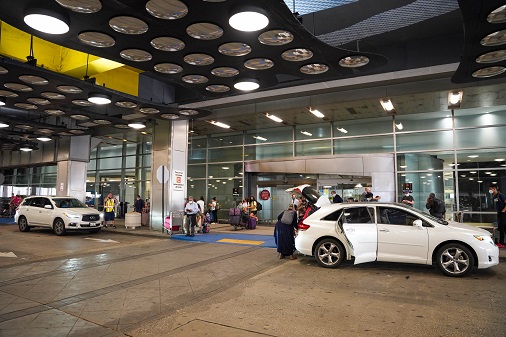 BEFORE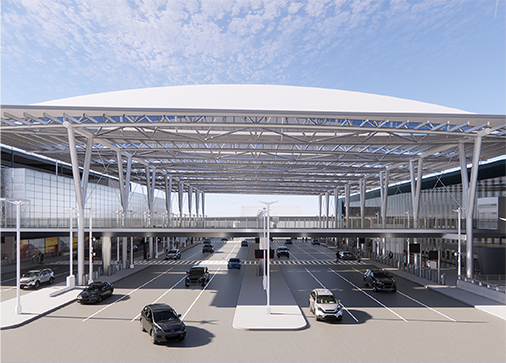 AFTER
MORE THAN JUST NEW BUILDINGS
This project also features upgrades and modernization that when combined with the renovations and new buildings will drastically improve on-time departure, streamline arrivals and provide a better all-around passenger experience. The new stacked roadway system will span 11 lanes at the departure level and include a full-length protective canopy. Self-service check in kiosks and bag drops are not the only modernized upgrades Bluetooth (BLE), Near Field Communication (NFC), Wi-Fi, Facial Recognition & GPS are also part of the modernization of the project. Boarding passes will now be available VIA check-in desks, self-service kiosks, web sites and mobile phones. Lastly the baggage handling system will be updated and modernized to connect with the remainder of the airport's baggage system.