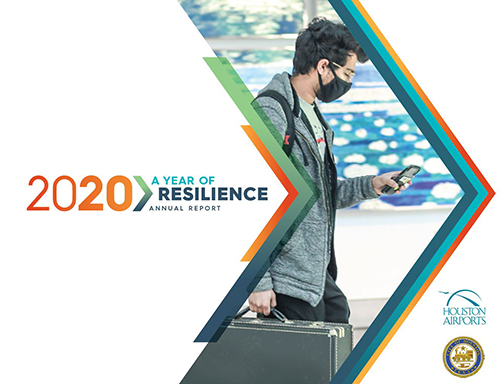 The 2020 story of Houston Airports is not one of suffering, misfortune or pity. It's a story of overcoming, never giving up, finding hope in the smallest victories and emerging resilient
This annual report chronicles the unprecedented year that pushed our airport system, city, economy and world to the brink. The content in this annual report is layered with a timeline of important COVID-19 events that gives perspective to the stories told.
For Houston Airports, 2020 was a year that started with a fierce tailwind — thrusting Houston Airports into a record-breaking year. The year was on track to break an all-time high of 60 million passengers, until a cascade of news about a virus called COVID-19 commanded the world's attention. The public health emergency forced Houston Airports leadership to take quick action to preserve and protect its essential workforce, passengers, stakeholders, partners and investments.
The hardships didn't come without an outpouring of accolades that replenished our team's drive for excellence.
Despite the historic and prolonged decline in passenger traffic, Houston Airports' strategic focus on safety and partnerships opened the door to a promising rebound in the final months of 2020. In 2021, Houston Airports remains focused on its four strategic priorities: making our passengers happy; acting responsibly to achieve social, environmental and economic sustainability; building platforms for future success; and investing in our partnerships and employees.
The Houston Airports 2020 Annual Report is available online at the link below.