'Totally made my day' | How 7 years of Harmony In The Air transformed the airport experience in Houston
From easing anxiety to entertaining exhausted travelers, live musical performances by a diverse group of artists have become a signature of Houston Airports and the positive experience passengers say they didn't know they needed.
October 27, 2022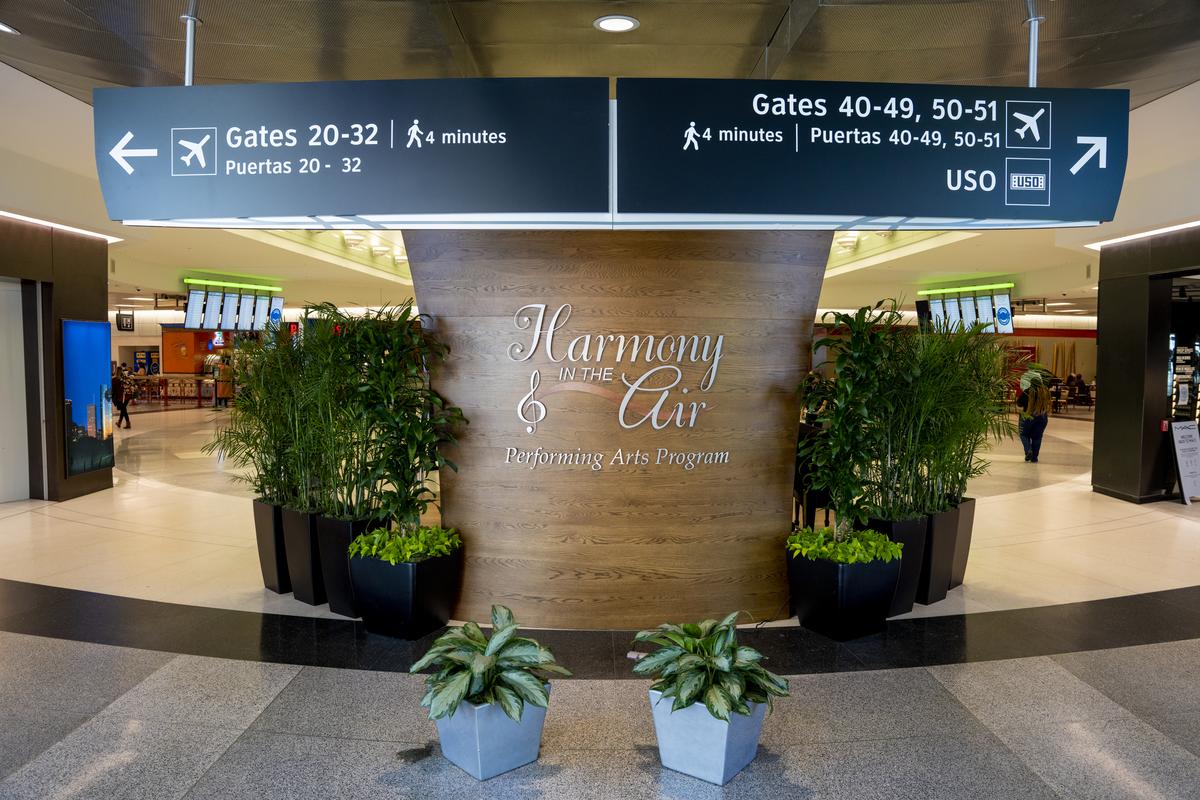 Seven years ago, the first set of local musicians was invited to play for air travelers behind TSA security lines. The hope was that sweet and soothing melodies strummed by guitarists and harpists would comfort and calm passengers as they moved through airport facilities. The goal was to create harmony, in the air.  
A significant role of the diverse arts program offered by Houston Airports, Harmony in the Air cultivates a delightful travel experience for millions of passengers each year. Whether through vibrant jazz, the hypnotic cadence of string quartets or the uncontrollable urge to shimmy to samba, live musical performances seem to be the airport amenity travelers didn't know they needed.  
Seven years later, the diverse soundtrack curated during daily performances helped William P. Hobby Airport secure North America's first-ever 5-star Skytrax rating and contributed to George Bush Intercontinental Airport maintaining its 4-star status for a 5th consecutive year.  
Accolades are one thing. Praise from passengers is another.  
"Whaaaaat!!! This is amazing! There's music, there's art! It's so pleasant and so cute. Totally made my day. I've seen people vibing and dancing all up and down this hallway." 
"Loved the live music! It is my husband's and my 15th wedding anniversary today! Please keep the live music at the airport." 
Grateful hearts routinely use comment cards to share their experiences.  
"Music for the soul. The music from Harmony in the Air made all the difference in my travel experience. I had some leisure time yet was anxious. They took the anxiety away and it was their passion and thrill for entertainment. Thank you."
The vision of Houston Airports is to establish a 5-star global air service gateway where the magic of flight is celebrated… or in this case, soulfully scored by 75 of the most talented musicians across Houston.  
"Harmony in the Air played incredible music and kept me entertained while I waited for my flight."  
The performances proved pivotal for musicians and listeners during the early stages of the COVID-19 pandemic. Because at a time when everyday experiences were wildly different, listening to music - a universal language - allowed racing hearts and minds to slow. 
"Makes me want to fly through Houston just to see you guys."  
Houston Airports, a gateway to Latin America and the South-Central region of the U.S., welcomed more than 44 million passengers in 2021 and nearly 60 million in 2019 before the pandemic began. It's a significant and diverse audience. An audience larger than some Texas communities will welcome in a decade.  
"Lucky travelers."  
Harmony in the Air allows Houston Airports to seize the opportunity to expose travelers to eclectic and unforgettable experiences while providing a unique performing venue to local musicians.   
"The live classical music was excellent! I have been in so many airports but have NEVER heard this!"  
The exposure Houston Airports provides to performers and passengers is unparallel. Harmony in the Air provides a moment to enjoy art and culture without travelers having to step foot outside the airport.  Seven years later, the only thing sweeter than a chord played on an airport piano just may be the series of notes collected to compliment harmony, in the air. 
 "I always love catching musicians at the Harmony in the Air spots when I'm flying."  
CLICK HERE: Performing arts schedule at William P. Hobby Airport 
CLICK HERE: Performing arts schedule at George Bush Intercontinental Airport 
Do you love Harmony in the Air? Your feedback and suggestions can help improve and expand the program. Email: HarmonyInTheAir@houstontx.gov or click here to fill out an online form.