Interns Gain Valuable Experience at Houston Airports
Inaugural Aviation Education Experience Program Represents Successful Collaboration Between Airport System and TSU
May 24, 2022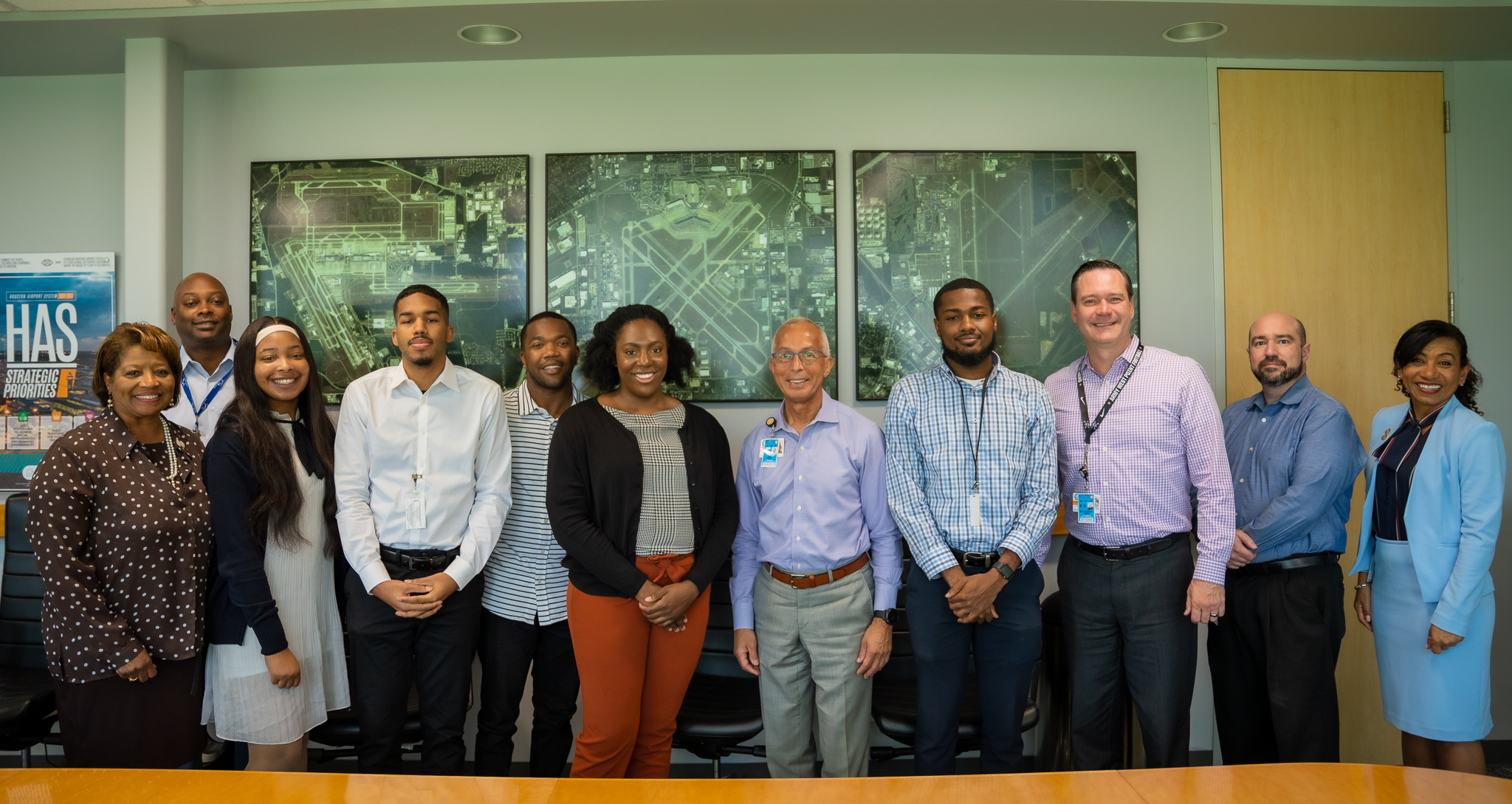 Friday, May 13th, was a lucky day for Houston Airports. It was lucky in the sense of five interns from Texas Southern University (TSU) closing a very motivational and successful chapter in their time at the airport system. 
Jacorey Adams, Brionne Nixon, Ashanti Morris, Tyrece Sims and Demarcus Woodley were all Inaugural Aviation Education Experience Program Interns, and each of them distinguished themselves in their three-month tenure at Houston Airports.  
"This internship is in its inaugural semester," said Deputy Director of the WID division Brant Gary. "It represents the successful collaboration between HAS, the TSU Executive Director of Aviation and the TSU Aviation Advisory Board."  
The inaugural semester was a great success. The HAS Aviation Education Experience Program was established to create an ongoing innovative, professional, and welcoming environment that educates and inspires future leaders in aviation. In addition, the students had the opportunity to obtain aviation industry professional experience in one of the country's largest airport systems.  
Students were to be exposed to various aspects of airport operations. 
Each intern was assigned a mentor who assisted in the development of a work plan. The mentors met regularly with the intern to provide advice and assistance in career planning and development.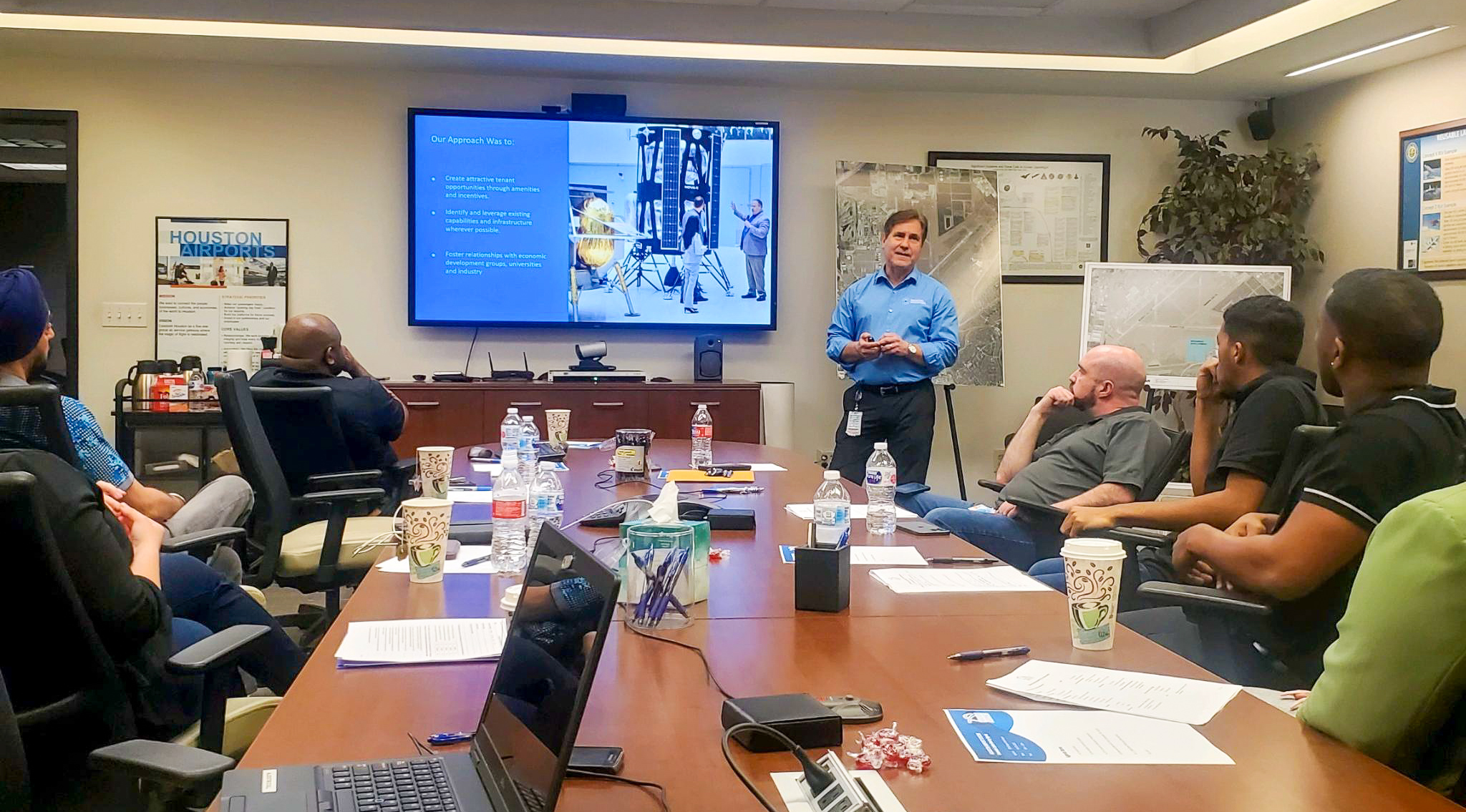 The prevailing sentiments of the departing interns were gratitude and motivation, with a clearer recognition that not even the sky is the limit in pursuit of their dreams and goals. 
Demarcus Woodley is a junior at TSU majoring in Aviation Science Management. He thoroughly learned from and enjoyed his time at Bush Airport.  
"I worked with Ritch Albert and the security department. Before I received my badge most of my days was spent doing patrols like 'Inspector D.' Inspector D is when I walk around the SIDA area pretending to be a lost passenger without a badge to see who would come challenge me according to the rules. I would also shadow the coordinators when a call would come in involving passengers and employees. After I received my badge, I was able to start my assignment and help rewrite the airport's Airport Security Program. 
Woodley said he enjoyed seeing all the behind-the-scenes matters that go on in an airport, from the routine to the unexpected, including how far luggage has to travel. 
Careerwise, he wants to become an Air Traffic Controller with the FAA. 
Ashanti Morris is also a junior majoring in Aviation Management with an interest in airport development and finance.  
She was mentored by Charlene Reynolds, former Chief Commercial Officer at Houston Airports, and said that working in the commercial development area gave her opportunities to learn about concessions and the process it takes to get them running in the airport. She also learned about parking and the revenues that can be generated from parking. 
Morris is interested in being a helicopter pilot, but said she would welcome the opportunity to become "a director in an airport as well." 
There are no limits for Houston Airports interns and the program has yielded dividends for many years. A notable alumnus is Perry J. Miller, A.A.E., I.A.P., currently the President and CEO of Richmond International Airport, who spent 25 years in various capacities at Houston Airports. He served as Airport Manager of Ellington Airport, (EFD) William P. Hobby, (HOU) Interim Airport Manager of George Bush Intercontinental, (IAH) and was a ranking member of the Houston Airport System Management Team. 
Miller started as a management intern from TSU and is a living example of the heights that can be scaled with dedication, drive, and enthusiasm. 
He recently spoke about the lasting impact of the program. 
"Excellence in Achievement was a guiding principle and a burden I carried as an intern; and I continue to live by the motto today," Miller said. "As one of the first three student interns when the program started, I knew that my performance would bear consequences for those that followed. That still holds true today being the first African American to hold the position of President & CEO at Richmond International Airport."  
"Quite simply, there is no room for mediocrity."