Houston Airports inspires community groups across U.S. to take on human traffickers
Through a series of high-profile discussions, Houston Airports shared the innovative tools used to train more than 28,000 badged employees to identify human trafficking. Airports, cities and community groups nationwide are now working to follow suit.
February 27, 2023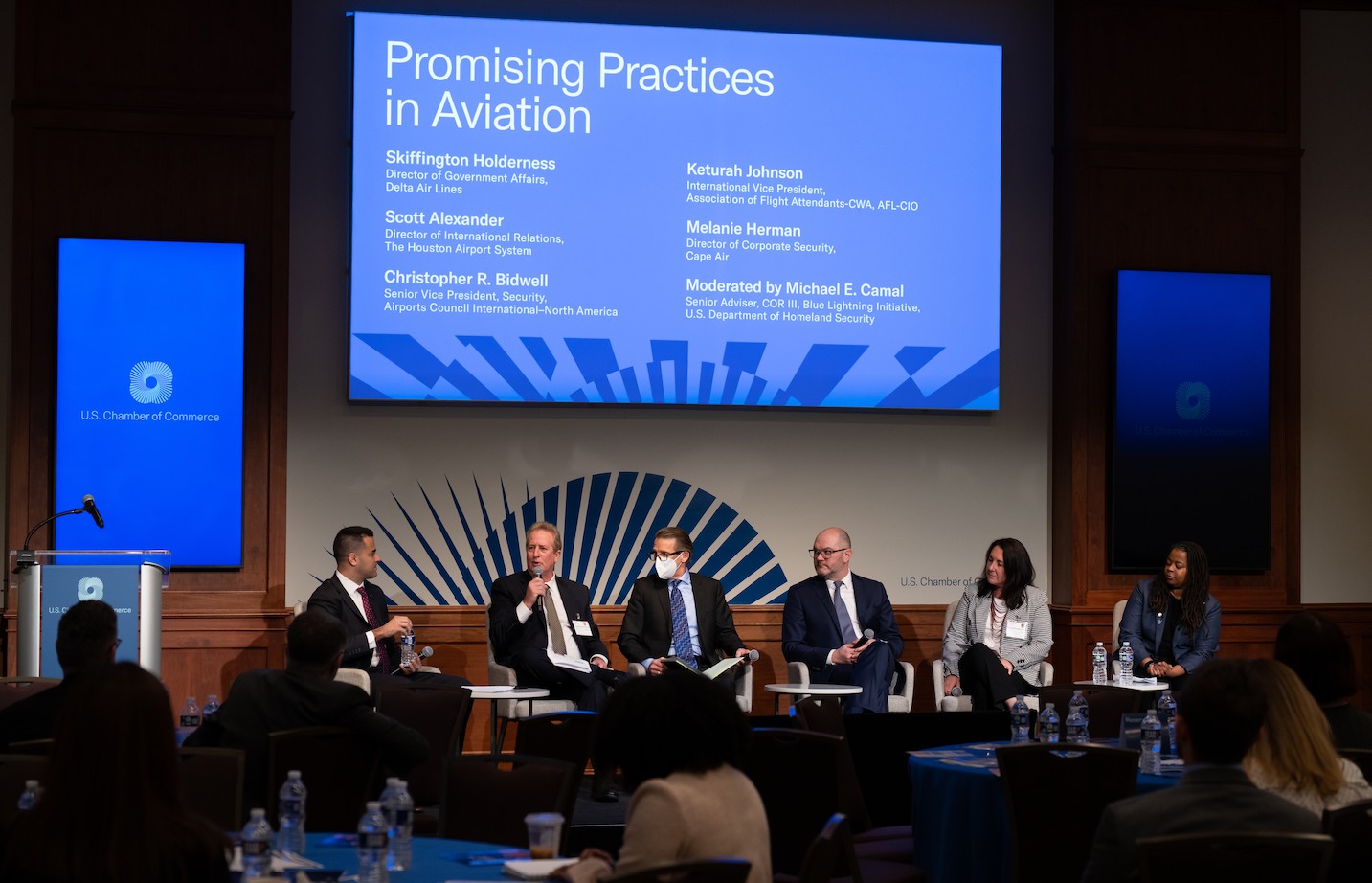 From Houston to Washington D.C., Houston Airports is spotlighting the importance and power of public-private partnerships created for human trafficking prevention. Communities and airports across the U.S. see value in teamwork and are now reaching out to Houston Airports to learn how to incorporate Houston's training in their own communities.  
The request for assistance comes after Houston Airports was invited to participate in a pair of discussions in Washington D.C. in late January 2023 during National Human Trafficking Prevention Month.  
Scott Alexander, Director of International Relations for Houston Airports, traveled to Washington D.C. with Injung Noel, Manager of International Relations, so Houston Airports could share its best practices, developed by Houston Airports over the last four years.  
Alexander coordinates the airport system's efforts to combat human trafficking through training and awareness.  
Alexander served on the panel "Promising Practices in Aviation" for a U.S. Chamber of Commerce event. Houston Airports then networked with organizations at a summit hosted by the U.S. Department of Homeland Security. 
"In 2019 Houston Airports became the first airport system in the nation to officially partner with the U.S. Department of Homeland Security and its Blue Lightning Initiative," said Alexander. Through the initiative, we've worked with DHS to create airport-centric training modules used to train more than 28,000 badged Houston Airports employees as of December 2022."
The training is a game-changer. The federal government confirms human traffickers use airways, roadways, railways and waterways to facilitate the trafficking of victims for commercial sex and forced labor. Transportation personnel can act as the first line of defense as they are uniquely positioned to recognize and report such wrongdoings. Public-private partnerships are essential to combat this heinous crime.  
Since the start of its partnership with the federal government, Houston Airports has deployed 320 posters throughout its three airports, George Bush Intercontinental Airport, William P. Hobby Airport and Ellington Airport. QR codes on the posters link to various resources in multiple languages that can be accessed 24 hours a day, 7 days a week once the QR code is scanned.  
Houston Airports also uses 90 visual paging monitors to advertise the warning signs of human trafficking and ways victims can seek help.  
In May 2022, Houston Airports shared its training with 450 federal, local and aviation partners – including United Airlines.  
A video of the event was shared on social media. Alexander reports that as of today, the video has the potential to reach about 70 million people.  
In November 2022 Houston Airports began training community members, faith-based leaders and parents. About 500 attendees heard from survivors of human trafficking and learned the signs that warn someone may be the victim of human trafficking. Money raised through community sponsorships of the November event was donated to local advocacy groups in January 2023.  
RELATED | Houston Airports collaborates with community to educate citizens on human trafficking
RELATED | Mayor Sylvester Turner, Houston Airports present checks to local advocacy groups during Human Trafficking Prevention Month
"It is so important to help survivors with resources that will help them live a happy and normal life," said Saba Abashawl, Chief External Affairs Officer for Houston Airports. "These donations wouldn't have been possible without the support from public partners like NOV, Schlumberger, Marathon Petroleum, Houston First, Port of Houston and the Bay Area Houston Economic Partnership." 
Airports, human trafficking support groups, and non-government organizations are among the groups now turning to Houston Airports for guidance on training and tools. 
Recognizing key indicators of human trafficking is the first step in identifying victims.  
Click here for more information and resources for the U.S. Department of Homeland Security 
MORE | Houston Signs Agreement with Federal Agencies to Combat and Eradicate Human Trafficking
MORE | City of Houston Mayor's Office of Human Trafficking and Domestic Violence