Hobby Airport Makes Smart Move with New Restrooms
May 20, 2021
Page Carousel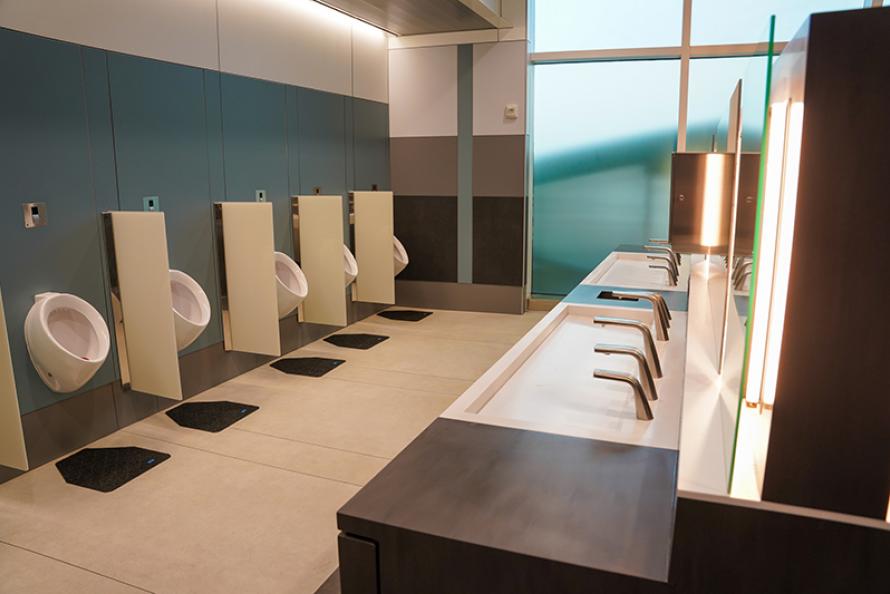 William P. Hobby Airport, HOU, is intent upon utilizing smart technology in providing 5-star service to its passengers. Houston Airports Director Mario Diaz presided over a ribbon-cutting ceremony May 12 at Hobby that showcased new smart restrooms near gates 40 through 43, the conclusion of Phase 1 of a two-phase restroom renovation effort. 
According to Houston Airports Chief Terminal Management Officer Liliana Rambo, smart technology enhances restroom maintenance, improves operations efficiency and cleanliness and makes for a better overall guest experience. 
"Restrooms are often the first and last stop for arriving and departing passengers and guests at airports and are high on the list of necessary amenities for customer satisfaction," Rambo said.  
"With the effects of the pandemic still present and being felt, it's even more vital to provide our passengers with a safe, efficient, and stress-free experience whenever and wherever we can. This was an important achievement for the thousands of customers Hobby sees each day."  
Hobby Airport Division Manager of Projects Michael Powers concurred and lauded the Houston Airports infrastructure team and prime contractor The Gonzales Group for bringing Phase 1 to a close. 
"Project Manager Robert Lengefeld and the project team worked really hard through numerous challenges," Powers said. 
"The project was basically a full demolition of existing facilities, then a rebuild." 
Powers said there were numerous challenges along the way, including relocation of lines and modifying plumbing, but the team persevered, found the best solutions, and executed. 
The impressive results? A modular design with brand-new wall panel systems that improve air quality, lighting, and circulation of air along with updated plumbing fixtures. Exterior glass was also added to the restrooms to match the glass in the terminal and introduce more translucent light. 
The restrooms provide a nearly touchless experience for passengers, from dispensing soap to washing and drying hands. 
"Clean and efficient restrooms are among the first signs of a well-run airport," said Houston Airports Terminal Manager at Hobby Airport Dawn Hoffman.
"Houston Airports and Hobby are committed to enhancing the travel experience. This is an important undertaking in achieving that and in making our customers happy, one of our strategic priorities," Hoffman said. 
"We thank our passengers for their patience during this effort to make our terminal experience even better for them." 
Rambo also noted that constant, around-the-clock cleaning and sanitizing also occurs at Hobby.  
"Our custodians take a lot of pride in their work and they are very vigilant about ensuring our restrooms are clean and well-stocked with the necessary supplies," she said.  
The project was divided into two phases to ensure minimal inconvenience to passengers. The Phase 2 renovations of the restrooms near Gates 45-47 began May 13 and is anticipated to conclude in late September.