Every dog has its day. Literally!
Spotlighting and celebrating the dogs of Houston Airports on National Dog Day 
August 24, 2022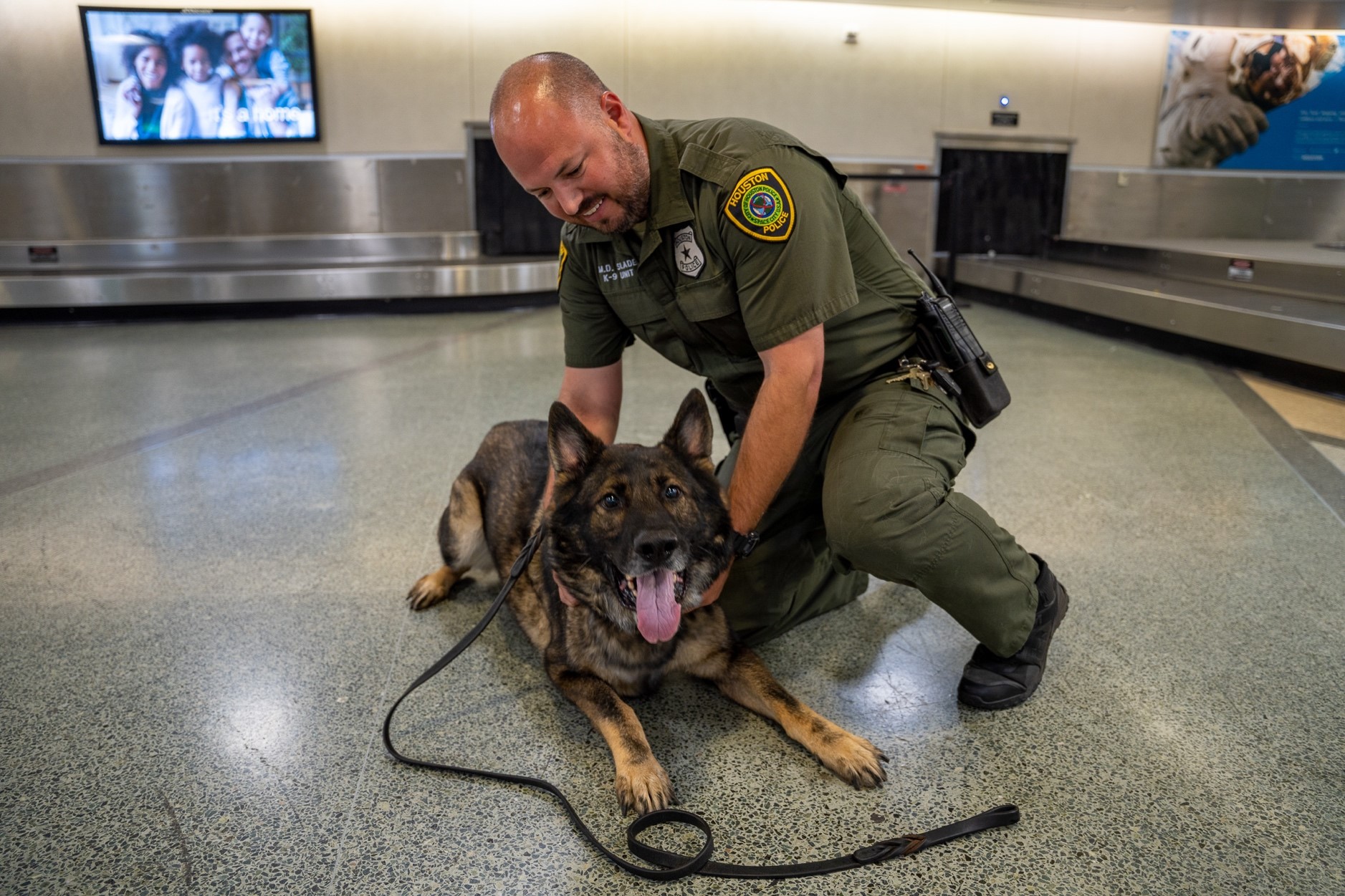 After a day of sniffing his way through carousels of luggage and lines of people at George Bush Intercontinental Airport, Hugo basks in a belly rub. The simple reward symbolizes a "job well done" for the Houston Police Department K-9 assigned to the Explosive Detection Unit.  
"Very playful, very gentle and a very hard-working dog," said Houston Police Officer Matthew Slade of his four-legged partner. At 103 pounds and 7 years old, Hugo, a German Shepherd, helps to take a load off HPD officers working a security detail at both Bush Airport and William P. Hobby Airport. 
The dog, which was trained at Lackland Air Force Base in San Antonio, is one of several K-9 HPD officers that search for explosives, narcotics and suspects.  
"As they say, dogs are man's best friend. And for me, this is a dream come true," said Slade with Hugo leashed by his side. "To combine my passion for animals with my job as a police officer." 
While passengers are not allowed to pet Hugo, dogs like Mia and Copper will take all the cuddles. The dogs are the newest members of Houston Airports' Therapy Dog Program which launched in 2016.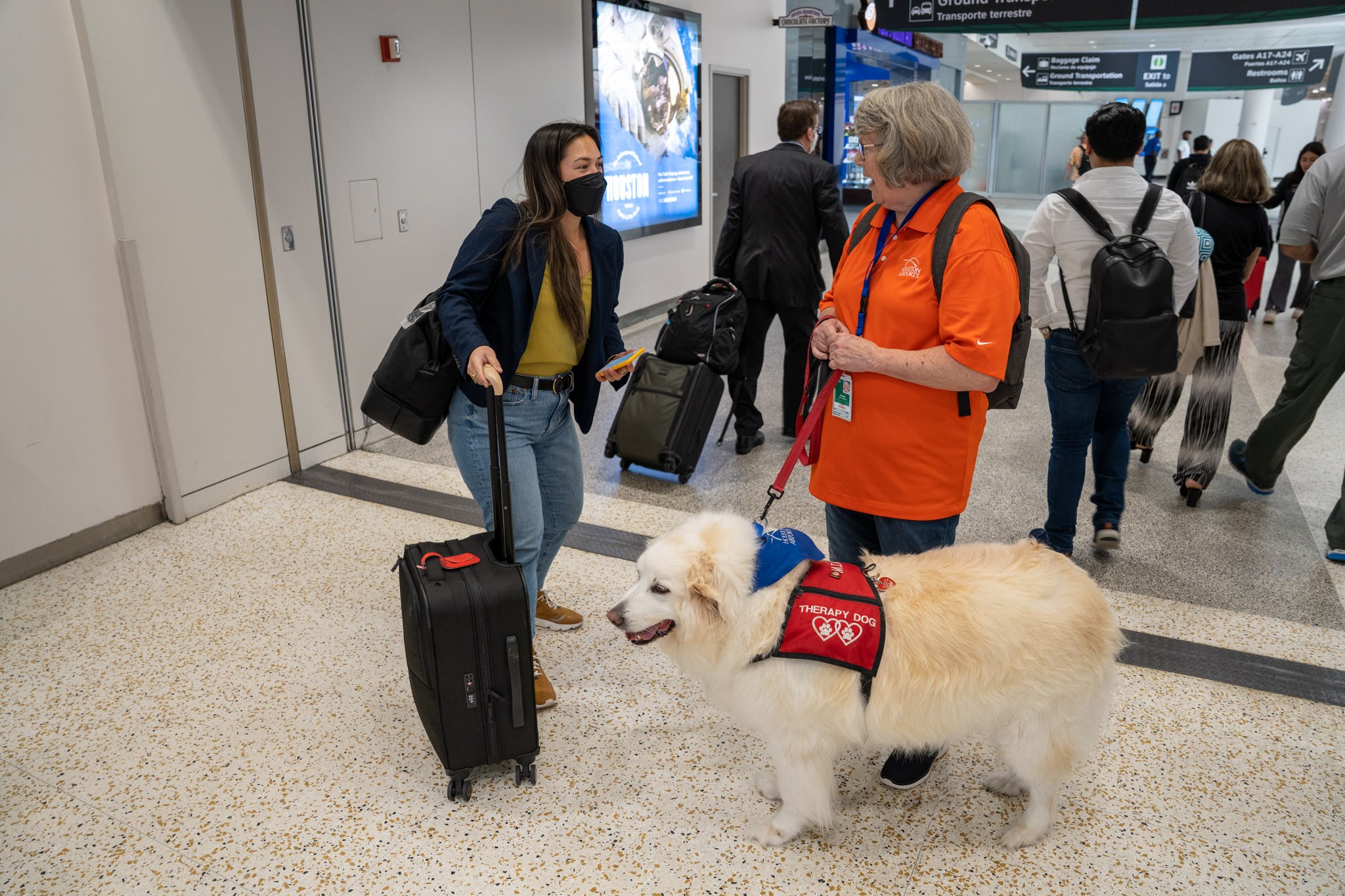 "I consider our Dog Therapy Program as an extension of customer service," said Ella Ghica who manages customer service at Bush Airport. Nearly a dozen dogs walk terminals at both airports each month, with shifts increasing during busy holiday travel weeks. 
"You just never know what you're going to walk into," said Jill Matte who handles Copper, a German Short-Haired Pointer. The rescue dog is about 9 years old. Matte describes Copper as a ball of energy that's "dynamic and high energy. Copper will chase flies all day long." 
Therapy dog handlers like Matte wear bright orange polo shirts. Dogs like Copper wear blue bandanas and a vest that reads "therapy dog" and "pet me," which is fitting when looking at Mia, a dog so fluffy one may just immediately wrap their arms around her.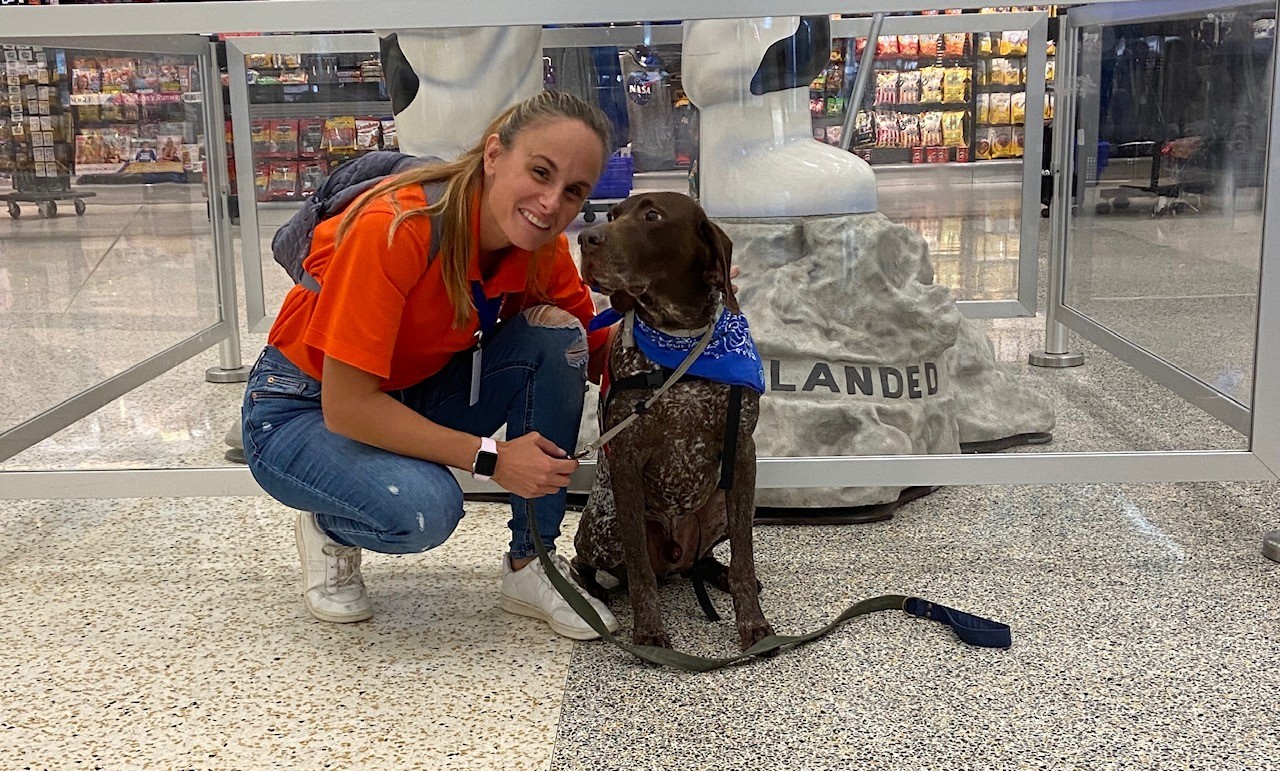 "Dogs were sent here to us for a reason," reflected Slade as he kneeled down to pose for a photo with his partner of nearly 6 years. "Love them like they're a part of the family, because they'll always love you."  
On this year's National Dog Day, August 26th, Houston Airports celebrates the K-9s that help make our world safer and better. When asked if Matte would do anything special for Copper on the day of recognition she said, "we are such a dog family that every day is dog day for us."  
More on the Therapy Dog Program at Houston Airports | The therapy dog program teams are registered with the Alliance of Therapy Dogs, a national therapy dog registry with more than 14,000 members in the U.S., Puerto Rico, the U.S. territories and Canada. This group of dedicated volunteers provide comfort at hospitals, special needs centers, schools and nursing homes - and is now available at both Bush and Hobby Airports. Houston's airports join a growing number of similar programs at other airports such as Los Angeles, San Francisco and San Antonio. Learn more about the Alliance of Therapy Dogs here.  
More on the Houston Police Department's K-9 Division | According to the Houston Police Foundation, the Houston Police Department's K-9 unit is one of the oldest patrol divisions on the department. Established in 1959, about two dozen dogs are currently assigned to various sections of the police department, including Houston Airports, SWAT and Patrol.