Construction at Bush Airport – Know Before You Go
April 20, 2021
Page Carousel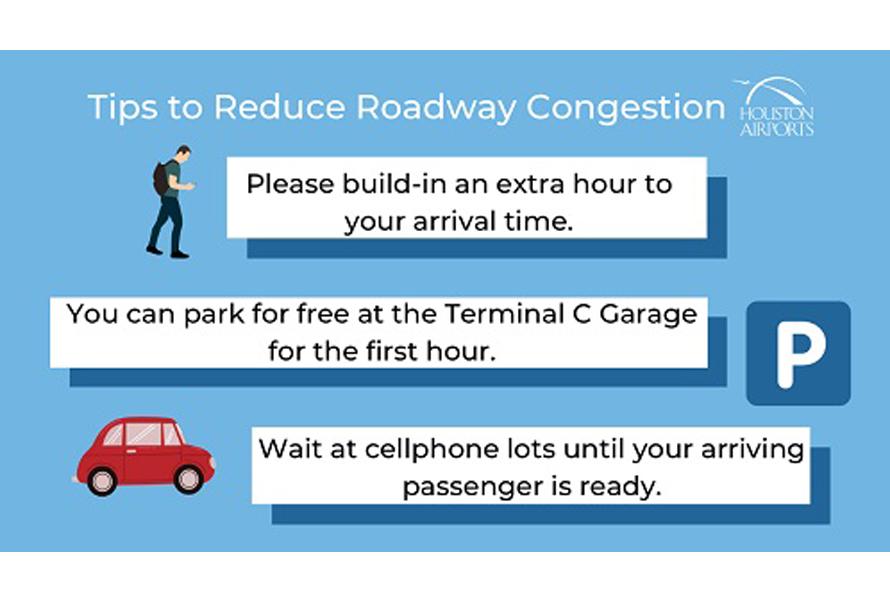 Houston Airports is striving to bring passengers a 5-star airport experience. With that goal in mind, construction to offer better facilities is underway including a new international terminal. Please be aware of two ongoing construction projects at George Bush Intercontinental Airport. 
Roadway construction along North Terminal Road  
Roadway construction on North Terminal Road at George Bush Intercontinental Airport, IAH, has reduced the number of lanes leading to Terminals C, D and E. Traffic congestion is likely during peak times for passengers departing from Terminals C, D or E.  
Houston Airports suggest the following tips to passengers departing from Terminal C, D or E. 
Passengers departing from Terminals C, D or E should expect roadway delays. Please build in an extra hour to travel time.  

To avoid curbside pickups, family members or friends can park for free at the Terminal C Garage for the first hour. Coordinate ahead of time with the arriving passenger.  

See real-time parking availability for Bush Airport.  

To reduce traffic congestion, family members or friends who are picking up passengers should wait at cellphone lots until the arriving passenger is ready at curbside for pickup.  
Will Clayton Pkwy. cellphone lot located at 5703 Will Clayton Parkway. 

John F. Kennedy Boulevard cellphone lot located at 17010 John F. Kennedy Boulevard 

Terminal D/E Parking Garage is now permanently closed. 
Construction has commenced on a new international terminal arrivals and departures hall that will improve the experience for passengers traveling to and from international destinations as well as create jobs for Houstonians. Due to the construction, the parking garages at Terminals D and E have closed permanently.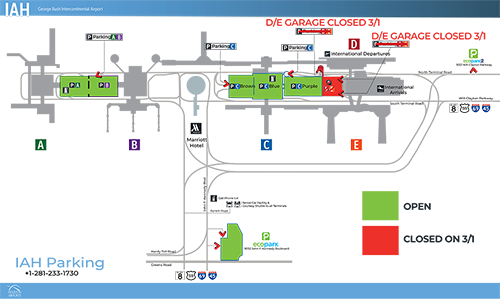 Useful information for passengers:
Please build-in at least an extra hour to your arrival time. You may encounter detours and roadway congestion. 
The Terminal D/E garage at Bush Airport is permanently closed. 

All passengers who would normally park in Terminal D/E garage may park in Terminal C garage or any other terminal garages. Please use the subway train to access Terminals D and E. 

Other convenient and affordable parking options include two nearby ecopark lots, which both include a direct shuttle to Terminal E. 

Passengers are encouraged to visit www.fly2houston.com to check terminal garage parking capacities, pre-book parking and save.   

Terminal D/E curbside pickup and drop-off will remain open. To ease potential roadway congestion, family or friends picking-up passengers for all terminals should use the cellphone lots until their passenger is ready at curbside. 
About the IAH Terminal Redevelopment Program at Bush Airport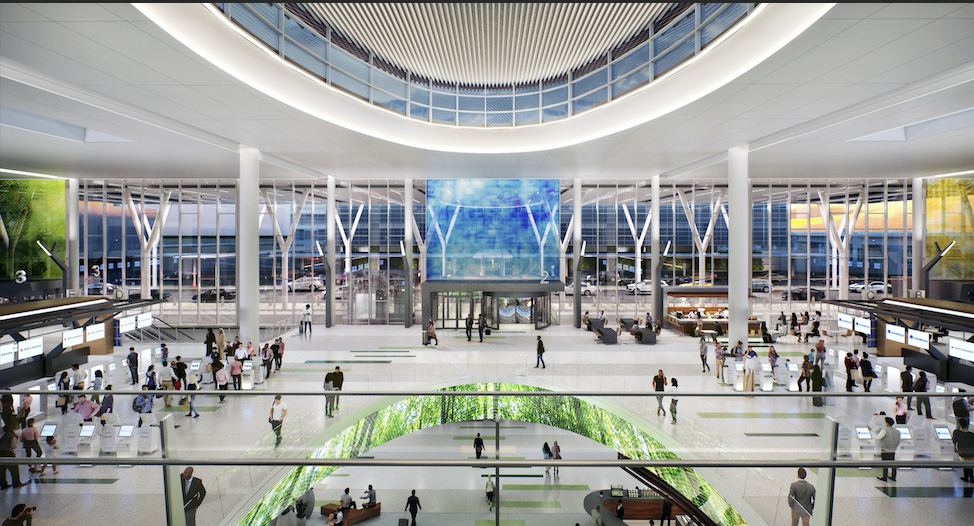 The garage closure, and the eventual demolition, is a yet another milestone for the IAH Terminal Redevelopment Program, the most significant expansion program in the 52-year history of Bush Airport.  
The IAH Terminal Redevelopment Program delivers on the additional international facilities needed to support continued growth in international traffic at the airport. More than 45 million travelers passed through Bush Airport in 2019, including over 11 million international passengers. The pandemic slowed what promised to be a record-breaking 2020 but air travel is on the rebound and Houston Airports continues to prepare itself for the eventual return to 2019 levels.   
Once complete, the new international terminal will feature a modernized ticketing and arrivals hall and will fully support post-pandemic growth in international traffic at the airport, address capacity constraints in the central terminal area, and improve baggage handling system capacity and reliability challenges. Additional international gates will accommodate continued airline growth.