We Hear you
Houston Airports remains focused on providing the facilities required for continued growth of air travel in Houston.  As the demand drove the need for additional facilities to handle international travelers and flights, our team initiated the largest development program in IAH's history, the IAH Terminal Redevelopment Program (ITRP). 
Constructing additional facilities and expanding and remodeling existing facilities in Terminals D and E to accommodate the growth creates challenges as it all occurs within a small footprint amidst ongoing operations.  Change is coming and the new international complex will provide a greatly improved passenger experience.   
Key Notes:  
Traffic peaks occur between 5 p.m.- 8 p.m. daily. If you are heading to the airport during these times, please plan ahead and follow our travel tips.
We hear you, and we recognize this creates challenges to the experience today.  Our team has implemented many improvements and continues working to mitigate traffic congestion.  We ask for your continued patience as our team continues to work to minimize the impacts while proceeding with the development project.   
Sincerely,  
Houston Airports 
 
---
Travel Tips
We are asking you to prepare and carefully plan your trip to Bush Airport. Please follow these recommendations.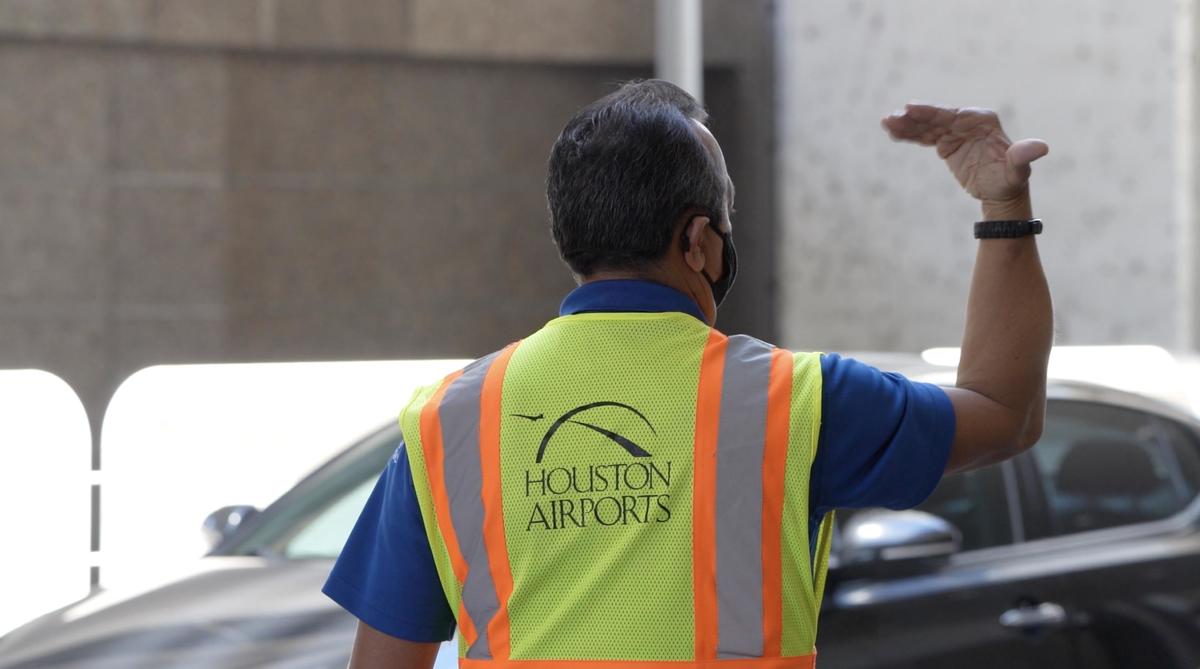 Arriving at the Airport – Parking and Drop-off  
If you are traveling during peak travel times, from 5 p.m. to 8 p.m., please build in an extra hour to your arrival time so you can comfortably get to your gate on time.  
Plan ahead and reserve parking online, It's the easiest way to guarantee a parking spot at the Terminal garages or  ecopark  locations. You can pre-book, adjust and even make valet reservations, visit www.fly2houston.com/parking
Anticipate high parking volumes at the Terminal garages. Please allow yourself extra time to find a  parking  space, and if necessary navigate to another parking location if your first parking choice is full.  We strongly recommend making a reservation online to ensure you have a parking space.   
Picking up Passengers at the Curbside  
People picking up passengers at curbsides should wait at the cell phone lots until the arriving passenger has gone through baggage claim and is ready at the curbside for pickup. Learn more about cellphone lots at Bush Airport here.  
Do not park at the curbside to wait for your passenger. Idle vehicles create congestion at the curbside and backup traffic.

Follow roadway signage. Things are changing at IAH. Whether you have been to the airport dozens of times or are a newcomer, please slow down and read the roadway signs. You can get where you need to be by following our signage.
Pay attention to staff directing traffic. They are there for everyone's safety.
A good tip for travelers: All five terminals are connected through our subway and Skyway systems. Passengers can move around the terminals to avoid curbside congestion. 
Mitigation Measures Taken
Houston Airports has implemented several changes to address the ongoing traffic challenges.
On Oct. 1, construction on the United Airlines' Early Bag Storage structure was completed and all lanes on South Terminal Road re-opened one month ahead of schedule. 
On July 15, further South Terminal Road modifications took effect. A temporary detour was removed, allowing for a more seamless traffic flow and exit from the Central Terminal Area. The improvement will reduce pinch points and improve the overall traffic flow and exit. 
On July 1, the temporary detour for the Terminal C departures ramp was replaced with the reopening of the original departures ramp, allowing for improved traffic flow and exit of the Central Terminal Area. 
During the week of June 12-18, the restriping of the new Terminal C Arrivals HOV bypass lane was completed. Flexible candlestick delineators were also installed. Due to additional grading work at the Terminal C Departures ramp, to create an additional lane, a temporary single HOV lane is maintained with a split at the ramp approach.
Effective June 6, the elevators in the Terminal E international arrivals are back in operation, allowing for the removal of the ADA shuttles from the pickup curbside. This change introduces an additional roadway lane on South Terminal Road and extends the length of the curb for private vehicles and rideshare services. 
The Bush Airport team employs maximum airport personnel available and Houston Police Department (HPD) officers to work the curbside of each terminal during peak operations. Travelers and those picking up passengers are constantly reminded that curb fronts are active loading zones only, and all drivers are asked to please follow the guidance of the staff working the curbs. They are there for everyone's safety.  
The Houston Police Department is actively working on traffic management every day on North Terminal Road at Terminal C from 2:30 p.m. to 9:30 p.m., helping meter cars out of the North passenger pickup and West curb to exit the traffic signal lanes. 
Prior to Memorial Day, 2022 
Moved the rideshare service companies from Terminal C Arrivals curb to the first floor of the Terminal C West Parking Garage to provide additional curb space at Terminal C Arrivals.  
Shortened haul route road to add a lane to approach South arrivals curb.  
January 2022 
Accelerated elevator work which directly tied to the accessibility shuttles use on the South arrivals curb. (The accessibility shuttles limited the number of lanes that could be used on South Terminal Road due to the ADA ramp needed for passengers with disabilities.) 
December 2021 
Added traffic light to North Terminal Road to allow traffic to exit North Terminal Road.  
Summer and Fall 2021
Delayed paving projects on North Terminal Road so as to not close down lanes on North Terminal Road.