TAXIS
Pick up – outside Baggage Claim/Arrivals Level, Terminals A, B, C and E
Terminal A: south side, Door A-115
Terminal B: south side, B-103
Terminal C: south side, Door C-105
Terminal E: south side, Door E-103 B
Follow signs to "Ground Transportation"
Exits are marked with "Taxis"
Taxi Assistance
Airport personnel are present and on-duty at Terminal A, B, C, and E curbsides continually 24/7.Transportation Agents will match you with a cab and verify your destination address with the cab driver.
If for any reason a Transportation Agent is not available, call 281-233-3169 or use the courtesy phone to dial 23-4198.
All taxis picking up passengers from the Airport are fully licensed and drivers must complete a training course in safe driving, customer service and assisting passengers with disabilities.
Approximate fares, not including gratuity, from IAH
$57 to downtown
$65 to Galleria/Medical Center area
$70 to NRG Park
$78 to Hobby Airport
$102 to NASA Space Center
Senior citizens are eligible for a 10% discount.
A surcharge of $2.75 applies for a departure fee, and an additional surcharge of $1.00 applies for late-night trips between 8:00 p.m. and 6:00 a.m.
For more information, download the taxi brochure with up-to-date rates.
Drop off – All Terminals, Departures Level
RIDE APP PICKUP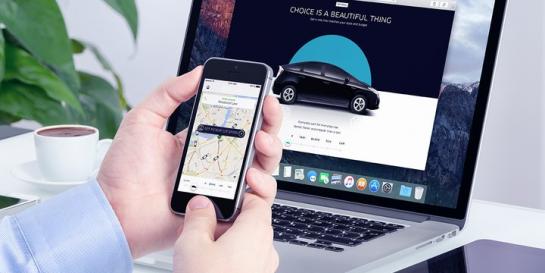 Pick up - outside Baggage Claim/Arrivals Level, Terminals A and C 
Terminal A: west side, Doors A-113 and A-114 
Terminal C: south side, Door C-105
Terminal B, D, and E passengers using Ride App should board Skyway or Subway to Terminals A or C
Pick-up area is designated by "Ride App" signs
Drop off – All terminals, Departures Level
Ride Apps  serving IAH are:
Alto
Lyft
RideTEGO
Uber
Wingz