IAH offers a spacious Rental Car Center providing one-stop rental car service. It is open 24 hours a day, 7 days a week.  All of the rental car companies serving the airport operate from this consolidated facility.
Shuttles to Rental Car Center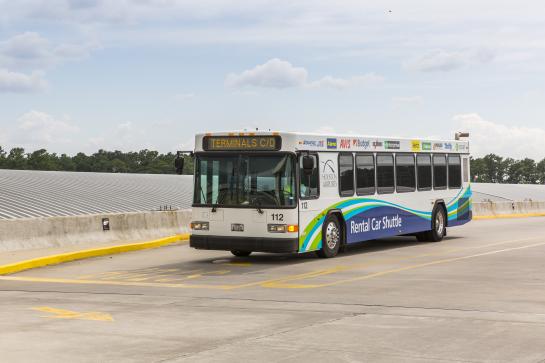 The Rental Car Center is approximately five minutes from the terminals by shuttle.
Shuttles depart every five minutes from the outside Baggage Claim/Arrivals, Terminal A, B, and C between 7:00 am and 11:00 pm and every ten minutes between 11:00 pm and 7:00 am. Terminal D rental car shuttle pickup is available until 9:00 pm; after 9:00 pm proceed to Terminal C. 
Terminals A: south side, Door A-115
Terminal B: south side, B-103
Terminal C: south side, Door C-105 
Terminal D: west curb
Follow signs to "Ground Transportation"
Exits are marked with "Rental Car" signs
Look for blue and white buses marked "Rental Car Shuttle"
Note:  International passengers who arrive at Terminal D will proceed through Customs & Immigration to the Terminal E international arrivals hall.
Returning a Rental Car
Signs on John F. Kennedy Boulevard and Will Clayton Parkway direct you to the Rental Car Center.
Address:  17330 Palmetto Pines, Houston, TX 77032 
Shuttles depart for the terminals every five minutes.
Separate buses serve Terminals A and B, Terminals C and D.
Look for the sign designating the terminal on the front of each bus 
Rental Car Companies Serving IAH
Contact information for rental car companies serving IAH may also be found through the Interactive Visitor Kiosks located in the Baggage Claim area of Terminals A, B and C, and on the International Arrivals Level of Terminal E.
|   | Company | Contact | Hours |
| --- | --- | --- | --- |
| | | 1-888-233-8749 | Open daily, 24 hours |
| | | 1-800-633-3469 | Open daily, 24 hours |
| | | 1-800-218-7992 | Open daily, 24 hours |
| | | 1-800-800-4000 | Open daily, 5:00 a.m. – 1:30 a.m. |
| | | 1-800-736-8222 | Open daily, 24 hours |
| | | 1-800-654-3131 | Open daily, 24 hours |
| | | 1-888-826-6890 | Open daily, 24 hours |
| | | 1-800-729-5377 | Open daily, 6:00 a.m. – 11:00 p.m. |
| | | 1-877-283-0898 | Open daily, 5:00 a.m. – 1:30 a.m. |
| | | 1-866-494-7227 | Open daily, 24 hours |
|   |   |   |   |