International Travel
Terminal
Processing
Avg. Wait
Min. Wait
Max. Wait

Loading...

Immigration & Customs

Immigration & Customs

International Processing

International passengers who arrive at both Terminals D and E will proceed through Customs & Immigration to the Terminal E international arrivals hall.

* Does not include secondary processing by CBP.

TSA Security Recheck

TSA Security Recheck
All connecting international passengers must go through TSA Security Recheck before proceeding to their onward flight (after processing through Immigration & Customs and collecting and rechecking baggage).
Visa Requirements
Non-U.S. citizens need a visa to enter the United States to visit, work, live and connect (international transit).
For more information on entry and visa requirements, please visit the U.S. Department of State
Immigration Procedures
Passengers traveling into IAH on international flights will arrive at gates in either Terminal D or Terminal E. They will disembark and make their way through secure corridors and across the sky bridges to the adjoining Federal Inspection Services (FIS). Here they will clear Immigration and Passport Control, go downstairs, claim baggage and clear customs.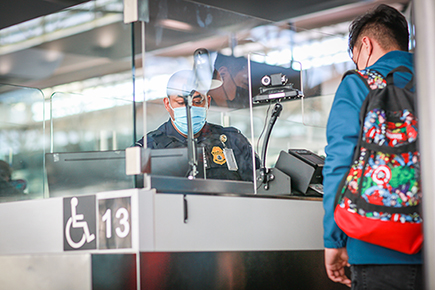 Once passengers arrive at the immigration hall, they will have the option of being processed the following ways:
Immigration officer
Global Entry Trusted Traveler Network Program kiosk (members only)
Passengers will then proceed downstairs to level one to collect their baggage before going to customs exit control.
Upon arrival at customs exit control, one of the following documents will be required:
Customs declaration form (If processed via immigration officer)
Global Entry kiosk receipt (if processed at Global Entry kiosk
There is a CBP Agriculture Specialist available to examine food, plants or other perishables for travelers carrying these items. Passengers who have duty to pay may do so at the cashier window adjacent to the exit doors of the Customs and Border Protection area.
Passengers ending their journey in Houston will continue straight after exiting the doors of the customs area and into the Meeter/Greeter Lobby located on the first floor of Terminal E International Arrivals Hall. Ground transportation will also be accessible from this area.
International in-transit passengers will turn right upon exiting customs, and proceed to the recheck counters which will help speed them and their baggage on to their final destination. Airline locations can be found on our airlines page. All international in-transit passengers will are subject to screening at the TSA security checkpoint before proceeding into the secure area of their departing terminal.
For additional information, visit the U.S. Customs and Border Protection (CBP) site.
MOBILE PASSPORT CONTROL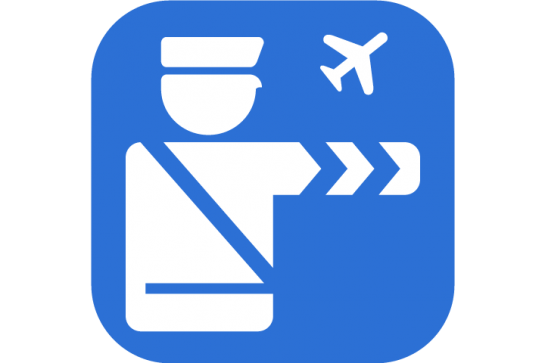 Mobile Passport Control (MPC) is the first authorized app to expedite a traveler's entry process into the United States*. The app streamlines the traveler inspection process and enables CBP officers to focus more on the inspection and less on administrative functions. Eligible travelers with a smartphone or tablet can download the Mobile Passport Control app from the Apple App Store or Google Play Store.
MPC makes the entry process as simple as four steps:
Download the Free App from the Apple App Store or Google Play Store
Answer a few questions
Submit a form to U.S. Customs and Border Protection via the app
Skip the line and save time
​​For more information on MPC, visit cbp.gov
View the MPC Flyer
Download the MPC brochure
*Available for U.S. citizens with a valid U.S. passport and Canadian citizens with both a valid Canadian passport and B1 or B2 visa status.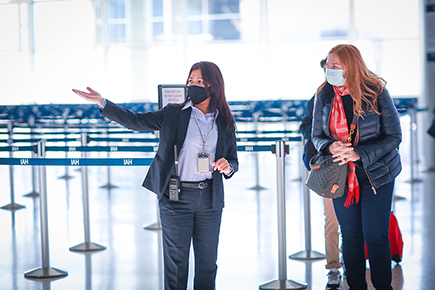 Tax Rebates
IAH offers sales tax rebate services for qualifying departing international passengers in Terminals D, pre-security. Please see TaxFree Shopping for more information.
Global Entry Trusted Traveler Network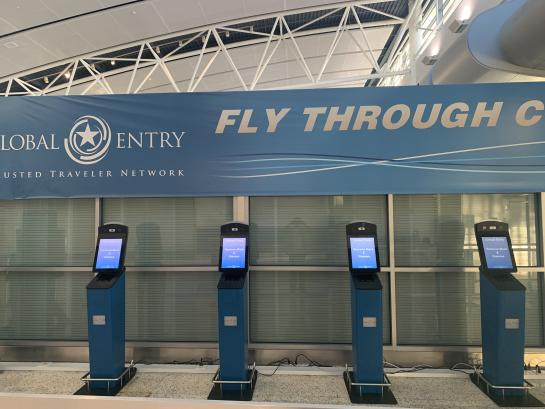 Global Entry is a U.S. Customs and Border Protection (CBP) Program that allows expedited clearance for pre-approved, low-risk travelers upon arrival in the United States.
Global Entry membership includes the TSA Pre✓ benefit.
For more information about eligibility and how to apply, please visit globalentry.gov.
Houston Enrollment Centers
Terminal E Arrivals level (public access area)
Terminal E secure area (next to Ruby's Diner)
Houston Public Library (Downtown Houston), 500 McKinney, 77002
GLOBAL ENTRY ENROLLMENT ON ARRIVAL
IAH is one of five airports selected by U.S. Customs and Border Protection (CBP) to offer Enrollment on Arrival.  The program shortens enrollment wait times for Global Entry by speeding the interview process.
Applicants no longer need to schedule an interview at an enrollment center to complete the application.  Upon returning to the U.S. on an international flight to IAH, applicants may fulfill the interview portion during CBP processing.  Directional signage in the immigration hall will indicate the Global Entry Enrollment booth where a CBP officer will complete the arrival into the U.S. and the Global Entry interview.
The program is for those who have applied for Global Entry online at www.globalentry.gov and have received conditional approval.