About Us
Harmony in the Air, the Houston Airports' performing arts program, is one of several efforts the airports have initiated to create memorable and positive travel experiences for passengers and generate higher revenue and stronger customer loyalty. The vision of Houston Airports is to establish Houston as a five-star global air service gateway where the magic of flight is celebrated. Certainly, Harmony in the Air contributes to achieving the highest level of customer satisfaction by providing an exceptional passenger amenity.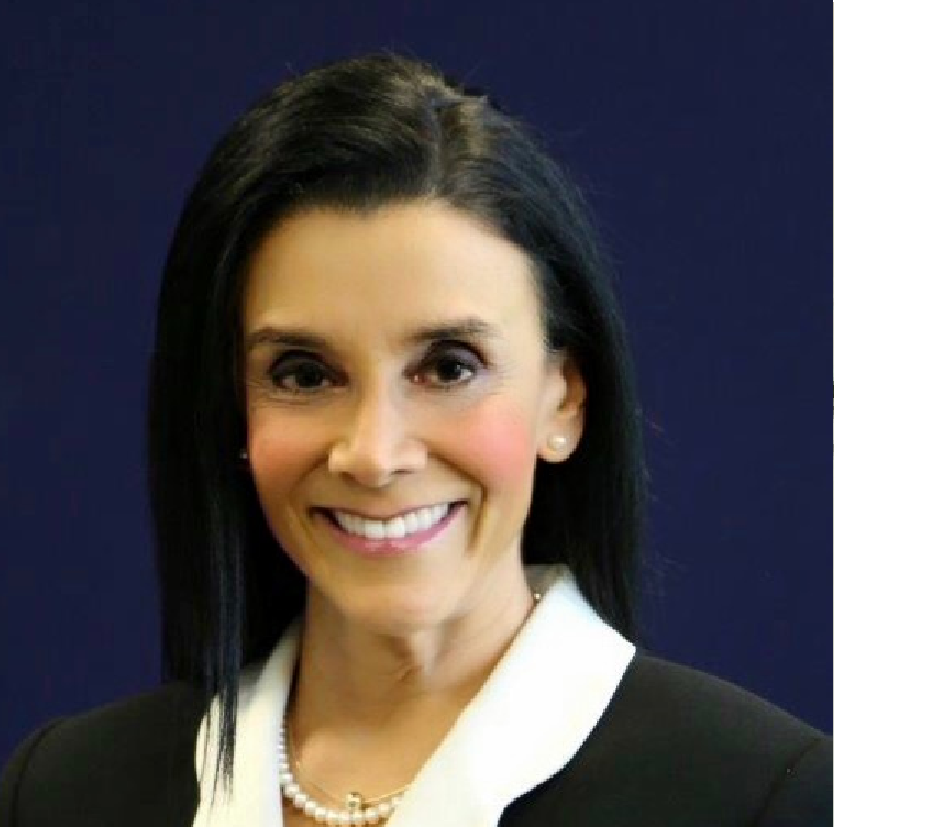 Presented at both George Bush Intercontinental Airport (IAH) and William P. Hobby Airport (HOU), Harmony in the Air features more than 75 of Houston's most accomplished professional musicians performing a diverse repertoire of classical, jazz, pop and international music.
As the City of Houston requires, every participating musician passed a rigorous screening process based on education, experience, professional credentials, and the ability to perform diverse music genres. The musicians also represent diversity in gender, race, and culture. All musicians in the Harmony in the Air program are residents of Houston and perform in other stellar Houston music venues including the Houston Symphony, the Houston Grand Opera and the Houston Ballet. Most are educators and have mentored young musicians during their professional career.
LOCATION:
Harmony in the Air performances take place in the Central Concourse Rotunda. 
SCHEDULE: Most Harmony in the Air performances are from 12 p.m. to 3 p.m. Some performances are from 4 p.m to 7 p.m. Performances rotate every other day of the week. Occasionally, schedules are subject to change due to unforeseen circumstances.
Mondays:

Apollo Chamber Players

– Classical 

 
Tony Henry - R&B and Pop
 
Madu String Quartet - Classical
Tuesdays:

Gerling-Mut Duo

– Classical Violin and Piano 

 
Bob Chadwick's Trio – Bossa and Calypso 

Wednesdays: 

Divisi Strings - Classical and Pop
 

Solero Flamenco

– Flamenco and Spanish

Thursdays:

Duo Dramatique – Classical Violin and Piano

 

Jeremy Joseph Trio - R&B and Pop
 
The Melvin Johnson Electro-Akoustic - R&B and Pop

Fridays:

Mark Prause

– Contemporary Pianist

 
Musiqa – Classical String Quartet

For more information about the Harmony in the Air performing arts program, please email Maricela Kruseman, Program Founder and Director at Harmonyintheair@houstontx.gov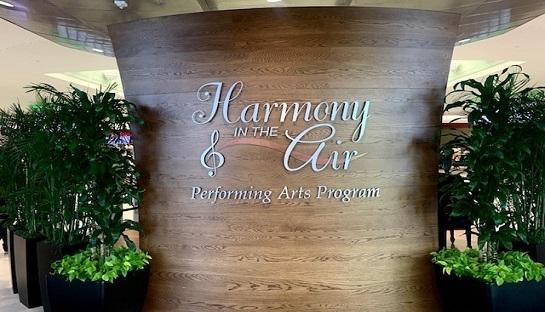 Do you love Harmony in the Air?
Your feedback and suggestions can help improve and expand the program.
Please share your thoughts about the selection and quality of the music as well as the overall presentation including the ambiance, acoustics, lighting, stage and performing area. We welcome any comments regarding Harmony in the Air and its contribution to your airport experience.
fly2houston.com/customer-feedback
or email Harmonyintheair@houstontx.gov
Apollo Chamber Players
Classical String Quartet
Houston TX based Apollo Chamber Players "performs with rhythmic flair and virtuosity" (The Strad) and has "found fruitful territory" (Houston Chronicle) through innovative, globally- inspired programming and multicultural new music commissions. Recent winner of Chamber Music America's prestigious Residency Partnership award, the quartet has performed for sold-out audiences at Carnegie Hall twice in the past five years, and it holds the distinction of being the first American chamber ensemble to record and perform in Cuba since the embargo relaxation. Apollo is featured frequently on American Public Media's nationally syndicated program Performance Today.
Gerling-Mut Duo
Classical Violin and Piano Duo
Gerling-Mut Duo is a classical violin and piano duo. Violinist Ingrid Gerling and pianist Andrea Mut have performed extensively as soloists, recitalists and chamber musicians through the United States, South America, Europe, and Asia. Their exquisite and fresh style is the result of their delicate approach to melody and line, and their mutual passion for balance, unforced sounds, style, and precision of technique.
Bob Chadwick Jazz Trio
World Music Trio
The Bob Chadwick Trio features Bob Chadwick, flutes, with Ray Wilson on guitar and Andrew Gordon on upright bass. Bob Chadwick is an accomplished flautist and band leader, performing in the Houston area and nationally for over 35 years. The Trio's repertoire includes an impressive collection of bossa nova and Latin American tunes along with familiar jazz standards.
Bob Chadwick's use of bass flute brings a fresh voice to the classic Brazilian bossa nova. The velvety earthy sound of the bass flute evokes a mystery and depth that comes to life with his technical mastery and intuitive sensibilities. The ensemble provides a welcome interlude of musical entertainment that is both soothing and lively.
Divisi Strings
Classical String Quartet
With a talented group of musicians, Divisi Strings is dedicated to innovation. The group steps out of the traditional boundaries of classical music to pursue music of every genre, providing an unmatched selection of classical music mixed with today's hottest hits. The classic string quartet gets out of its comfort zone and sets it right into the middle of today's current pop hits, turning background music into sounds that are innovative, original, creative and totally surprising.
Solero Flamenco
Spanish and Flamenco Trio
Houston's premier flamenco performance company presents the tradition and essence of the art of flamenco.  With trademark passion and energy, founders and artistic directors Irma La Paloma and Jeremías García deliver an extensive repertoire of cante and guitarra along with percussionist Chris Howard on cajón and palmas.Houston's premier flamenco performance company presents the tradition and essence of the art of flamenco.  With trademark passion and energy, founders and artistic directors Irma La Paloma and Jeremías García deliver an extensive repertoire of cante and guitarra along with percussionist Chris Howard on cajón and palmas.
Duo Dramatique
Classical Violin and Piano Duo
Hailed as "a force to be reckoned with" whose music is "broad and expansive" and whose concerts have been described as "passionate and transporting", Duo Dramatique is a renowned Violin-Piano ensemble based in Houston, Texas.  Violinist Dominika Dancewicz and pianist Donald Doucet have earned steadily growing recognition for their compelling, eclectic and thought-provoking programs that include significant classical music from every era, as well as jazz, Broadway and pop. Since 2014 Duo Dramatique has hosted a regular recital series at the University of St. Thomas in Houston, where their concerts attract wide audiences and keep earning them wide acclaim. The Duo's first full-length CD featuring Violin Sonatas by Elgar, Mozart and Debussy was released in January of 2018.
Tony Henry
R&B, Pop, Singer, Solo Guitarist
Tony Henry is one of Houston's newest voices. Charismatic with his lyrics, the soul in his raspy voice has a magnetic power that grabs the attention of his listening audience.
Tony has performed at Houston's top music venues, including the Wortham Center and the Miller Outdoor Theater. His talent and exceptional demeanor have awarded him an appearance on BET's 106 & Park and the world famous Apollo Theater in New York. From his resounding new single "Stuck in the Ghetto", to his intuitive praise-filled "Searching", both written by the artist himself, his music can be up-lifting, encouraging and soothing to the soul.
Mark Prause
Contemporary Solo Pianist
Mark Prause is a native Houstonian with over 20 years' experience as a pianist.  Being a versatile musician and choosing a varied mix of songs from many genres, he entertains across generational and cultural lines.  His music sets an elegant touch on standards, Broadway hits, jazz, pop and classical music embracing the sounds of yesterday and today. Mark received a Bachelor of Music in Theory and Composition from Houston Baptist University and an Associate of Applied Science in Audio and Recording Technology from Houston Community College.
Musiqa
Classical String Quartet
Musiqa's mission is to enrich and inspire the community through programs that integrate new music with other modern art-forms. With its innovative collaborations and educational programming, Musiqa strives to make modern repertoire accessible and vital to audiences of all ages and musical backgrounds. Since its founding, Musiqa has presented more than 200 performances — including more than 30 world premieres — and performed the music of over 180 modern composers.  Their concerts are unique artistic experiences that highlight fresh, modern music by renowned local and national composers paired with another contemporary art form, such as literature, film, theatre, art or dance.
Jeremy Joseph Trio
R&B and Pop
If the soulfulness of Sam Cooke or John Legend met with the impassioned performance style of Nina Simone, it would sound like vocalist / pianist, Jeremy Joseph. Born and raised in Houston, Texas, Jeremy grew up surrounded by musicians and has been singing since he could speak. His creative influences span the musical spectrum and are beautifully reflected with great nuance in his vocal and pianistic style. Not only is he supremely versatile and talented, but his warm, expressive, and accessible performance style leaves audiences wanting more. Jeremy Joseph's trio formed two years ago and is a collaborative musical and creative effort. It includes Jeremy (keys/vocals), Alan Garcia (bass), and Gavin Moolchan (drums).
Madu String Quartet
Classical
Madu String Quartet is one of Houston's most dynamic and diverse music ensembles. Their name "Madu" comes from the African-Igbo language and means "a human being, a person, a group of people, or of the people." The musicians of Madu String Quartet proudly hail from all around the world, and perform a wide range of repertoire. Individually, they have all attained the highest degrees of classical musical education and are extremely sought-after musicians. Because of their unique backgrounds and their interest in music from all cultures and styles, Madu String Quartet aims to create a concert experience that all listeners will enjoy!
The Melvin Johnson Electro-Akoustic
R&B and Pop
Melvin Johnson is an acclaimed and diversified musician, arranger and composer with a passionate and energetic drive. His array of experiences reaches across multiple genres of music. Melvin plays many instruments including trumpet and percussion, but piano is without a doubt his prime passion.  He is renowned for his sensitive touch, insightful playing and his technical command when approaching the piano. Melvin's expressive playing and extraordinary musicianship has led him to perform at many important concerts and venues abroad.  He has participated in master classes with some of the best in the industry.  Melvin and his talented musicians inspire with their open-hearted, emotional playing, whether it be in intimate recitals or on the grandest of stages.